Prime Blue Grille and Il Gabbiano Are Just What Downtown Miami Needs
February 4, 2008
by Lucas Lechuga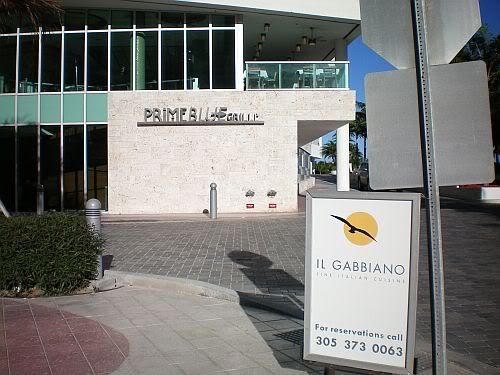 Miami needs high-end restaurants, grocers, hair salons, pharmacies, book stores, cafes and department stores. These services exist today in Downtown Miami but they likely wouldn't be considered "high-end" by the standards of most who inhabit the newly constructed $350-plus per square foot condos that surround the eastern exterior of Downtown Miami.
This is something that will one day become a realization. However, restaurants and other establishments aren't going to jump to acquire the empty commercial spaces, which abound at the bottom of these newly built condo high-rises, until they feel that there are enough year-round residents to justify such a commitment.
Case in point is One Miami. This is a condo development that began delivering its condos at the very end of 2005. Closings began at a time when the real estate market was questionably still going strong. However, it wasn't until the fourth quarter of 2007 that two fine restaurants, Prime Blue Grille and Il Gabbiano, decided to open their doors to patrons in the commercial spaces found at the bottom of One Miami. Two years! Summary of the story is that it will take at least another two years for the commercial spaces found at the bottom of the new condo developments to open their doors to patrons. Once they do, however, Miami will slowly start to become a true urban city.
By the way, Prime Blue Grille is an excellent restaurant! I highly recommend it if you're looking for an enjoyable fine-dining experience. Prime Blue Grille is a steak and seafood restaurant. I've heard nothing but great things about Il Gabbiano, an Italian restaurant, but I've yet to dine there myself.