Marina Blue Bulk Sale – A Closer Look
January 10, 2009
by Lucas Lechuga
As many of you have already heard, a 60-unit bulk sale recently occurred at Marina Blue.  Two local newspapers published articles about the deal earlier this week.
An investment group, under the name Welcome Bay LLC, paid slightly over $13M for the 60 condos.  The transaction was recorded on December 24, 2008.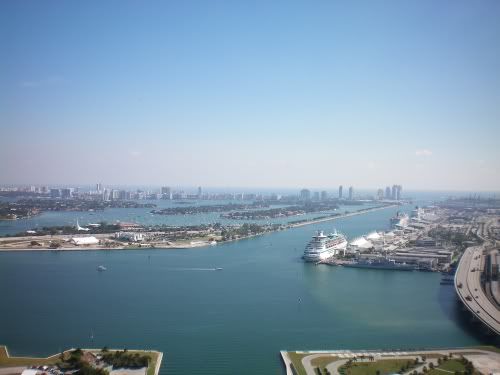 The 60 condos included in the Marina Blue bulk sale sold for an average price of $200 per square foot.  Below, you will find the bulk condo sale separated as per the 60 recorded deeds.  As many of you have discussed in a previous post about the Marina Blue bulk condo sale, it is important for everyone to realize that these are not retail prices.  An individual cannot and will not be able to purchase condos at Marina Blue at these prices.  The 60 condos below were part of package deal with prices that were distributed accordingly to arrive at the $200 per square foot average.
Correction: I just found out that there was an error in recording the deeds with the county.  Each unit was sold for exactly $200 per square foot.
Unit 411 – $169,000 – 845 SF – $200/SF
Unit 610 – $169,000 – 845 SF – $200/SF
Unit 703 – $196,400 – 982 SF – $200/SF
Unit 810 – $169,000 – 845 SF – $200/SF
Unit 911 – $169,000 – 845 SF – $200/SF
Unit 1111 – $169,000 – 845 SF – $200/SF
Unit 1511 – $169,000 – 845 SF – $200/SF
Unit 1703 – $188,600 – 943 SF – $200/SF
Unit 1801 – $263,000 – 1,315 SF – $200/SF
Unit 1802 – $168,600 – 843 SF – $200/SF
Unit 1812 – $263,600 – 1,318 SF – $200/SF
Unit 1901 – $263,000 – 1,315 SF – $200/SF
Unit 1906 – $189,600 – 948 SF – $200/SF
Unit 2007 – $166,600 – 833 SF – $200/SF
Unit 2009 – $264,600 – 1,323 SF – $200/SF
Unit 2012 – $263,600 – 1,318 SF – $200/SF
Unit 2104 – $241,600 – 1,208 SF – $200/SF
Unit 2106 – $189,600 – 948 SF – $200/SF
Unit 2202 – $168,600 – 843 SF – $200/SF
Unit 2204 – $241,600 – 1,208 SF – $200/SF
Unit 2312 – $263,600 – 1,318 SF – $200/SF
Unit 2404 – $241,600 – 1,208 SF – $200/SF
Unit 2503 – $188,600 – 943 SF – $200/SF
Unit 2512 – $263,600 – 1,318 SF – $200/SF
Unit 2709 – $264,600 – 1,323 SF – $200/SF
Unit 2805 – $239,600 – 1,198 SF – $200/SF
Unit 2903 – $188,600 – 943 SF – $200/SF
Unit 3002 – $168,600 – 843 SF – $200/SF
Unit 3201 – $263,000 – 1,315 SF – $200/SF
Unit 3202 – $168,600 – 843 SF – $200/SF
Unit 3304 – $241,600 – 1,208 SF – $200/SF
Unit 3306 – $189,600 – 948 SF – $200/SF
Unit 3401 – $263,000 – 1,315 SF – $200/SF
Unit 3404 – $241,600 – 1,208 SF – $200/SF
Unit 3405 – $239,600 – 1,198 SF – $200/SF
Unit 3407 – $166,600 – 833 SF – $200/SF
Unit 3412 – $263,600 – 1,318 SF – $200/SF
Unit 3509 – $264,600 – 1,323 SF – $200/SF
Unit 3704 – $241,600 – 1,208 SF – $200/SF
Unit 3804 – $241,600 – 1,208 SF – $200/SF
Unit 3901 – $263,000 – 1,315 SF – $200/SF
Unit 3905 – $264,400 – 1,322 SF – $200/SF
Unit 3909 – $264,600 – 1,323 SF – $200/SF
Unit 4002 – $168,600 – 843 SF – $200/SF
Unit 4105 – $239,600 – 1,198 SF – $200/SF
Unit 4107 – $166,600 – 833 SF – $200/SF
Unit 4204 – $241,600 – 1,208 SF – $200/SF
Unit 4212 – $263,600 – 1,318 SF – $200/SF
Unit 4303 – $188,600 – 943 SF – $200/SF
Unit 4305 – $239,600 – 1,198 SF – $200/SF
Unit 4307 – $166,600 – 833 SF – $200/SF
Unit 4407 – $166,600 – 833 SF – $200/SF
Unit 4409 – $264,600 – 1,323 SF – $200/SF
Unit 4504 – $241,600 – 1,208 SF – $200/SF
Unit 4506 – $189,600 – 948 SF – $200/SF
Unit 4601 – $263,000 – 1,315 SF – $200/SF
Unit 4705 – $239,600 – 1,198 SF – $200/SF
Unit 4807 – $166,600 – 833 SF – $200/SF
Unit 5006 – $189,600 – 948 SF – $200/SF
Unit 5106 – $189,600 – 948 SF – $200/SF