Cynergi Buyer Wants Out
June 12, 2007
by Lucas Lechuga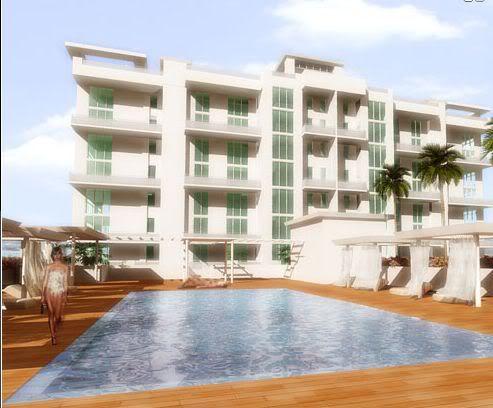 A guy named Evan left a comment on this blog and dropped me an email over the weekend. He bought a 1 bedroom/1 bath (D floor plan) with 962 square feet of interior space and a 204 square foot balcony on the eighth floor at Cynergi. He went into contract on his unit in June of 2005 and is looking to find a buyer to take over his contract. The price that he locked into was $380,000 but he is willing to accept $360,000 to get out. His unit comes with a $10,000 upgrade package, a full granite backsplash, washer/dryer and one parking space. The following are the prices that the sales agent working for the Cynergi developer quoted him in March 2007 for other D units in the building:
2nd floor – $425,000
3rd floor – $430,000
6th floor – $450,000
7th floor – $460,000
8th floor – $470,000
My reaction was holy crap! Those are unrealistic prices! I dug through some of the old price lists that I still have for Cynergi to see what those units were listed for a year or two ago. I used to get regular pricing updates emailed to me by a few of the sales agents who worked for Cynergi. I found a price list dated February 6, 2006. It has D units priced from $395,000 (2nd floor) to $425,000 (8th floor). Looks like Evan did get in pretty early. I still think that the prices are high even at $360,000 but I figured that I would post his situation on here in case someone knows somebody out there who is looking to buy a unit at Cynergi. Maybe they can help each other out.
Also, I've heard rumors that the developer of Cynergi is thinking about downgrading the kitchens and bathrooms on the remaining unsold units to cut back on costs. Does anybody out there know if there is any truth to this? It makes sense to me since it will be nearly impossible for them to sell those one bedroom units priced in the $400K's.
The picture slideshow below will show you the floor plan for a D unit. It will also show you the kitchen and bathroom as they should be delivered to contract holders. I took these pictures a while ago when the model showroom still existed.
If anyone else out there is looking to get out of their Miami preconstruction contract before they close, feel free to send me an email or drop a comment describing your scenario. Later this week I'll discuss 10 condo units that are up for grabs at Midtown 4 They were purchased by an investment group when sales first launched. The group is looking to sell the condos for exactly what they paid. I will post that story once I get all the details from a member of the investment group that I met this past weekend.
Update: Evan has reduced the price of his one bedroom unit at Cynergi to $345,000. He will consider all offers.