GlassHaus in the Grove Releases Introductory Prices & Renderings
May 23, 2017
by Sarah Elles Boggs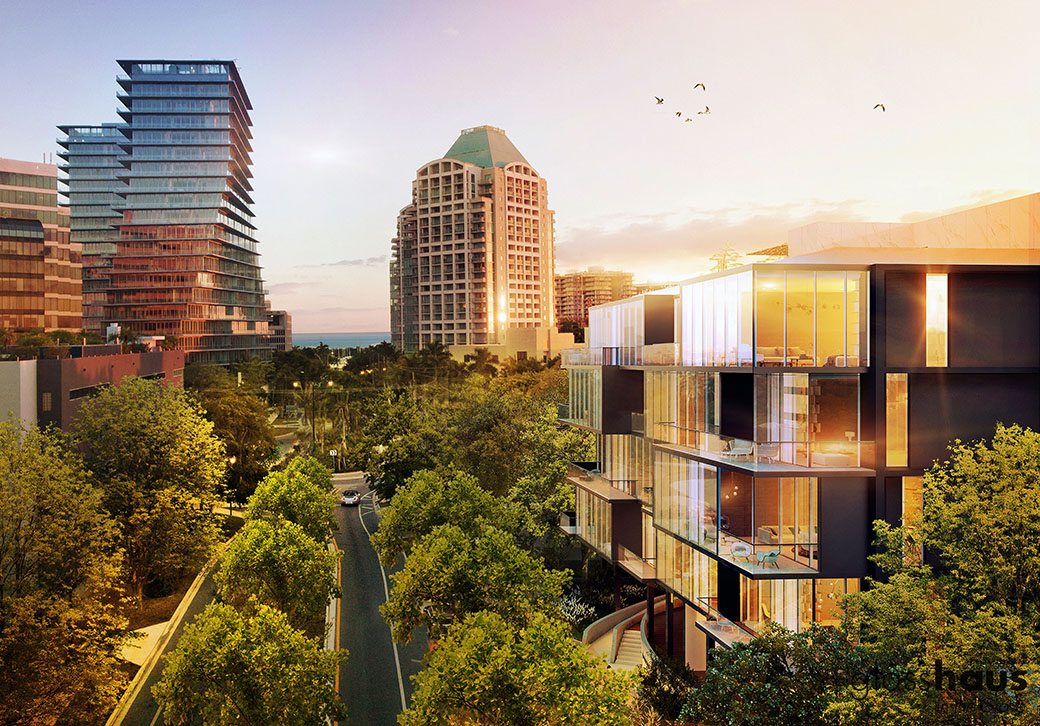 Coconut Grove is getting a new boutique condo development. It isn't waterfront, it isn't a high rise, and it isn't located on South Bayshore with the other luxury developments, but it is giving me a serious throwback to the Jardins neighborhood of São Paulo, and I like it.
For those who don't know, Jardins is an upper-class neighborhood within São Paulo. It is located just blocks from countless restaurants, lounges and bars. There are museums and high-end shopping steps away, yet the homes are nestled in peaceful seclusion amongst the lush greenery and mature hardwood trees.
GlassHaus may not have been aiming to be the Miami embodiment of São Paolo's natural elegance, but they're delivering it anyway. The modern minimalist design juxtaposed with the tropical hardwood hammock located just blocks away from the city hustle and bustle just works.
The project will have just 5 floors, the first level has three residences with the ambiance of garden living. There are shade trees and large outdoor terraces. The 4 floors above each have five residences per floor ranging from 1-3 bedrooms. On the roof, the residents will enjoy a fully-equipped summer kitchen and dining area, with a pool, sundeck and lush landscaping to match the environment below.
The floor plans range from1,080-2,380 square feet with between 1-3 bedrooms. Each residence has 11 foot ceilings with floor to ceiling glass. The current prices start at just under $600,000 for a 1 bedroom up to $1.3 million for a southeast corner residence with 3 bedrooms and 3.5 baths.
Here are some renderings, what do you think?