Art Basel Special: Top Miami Trophy Properties Day 3
December 6, 2017
by Sarah Elles Boggs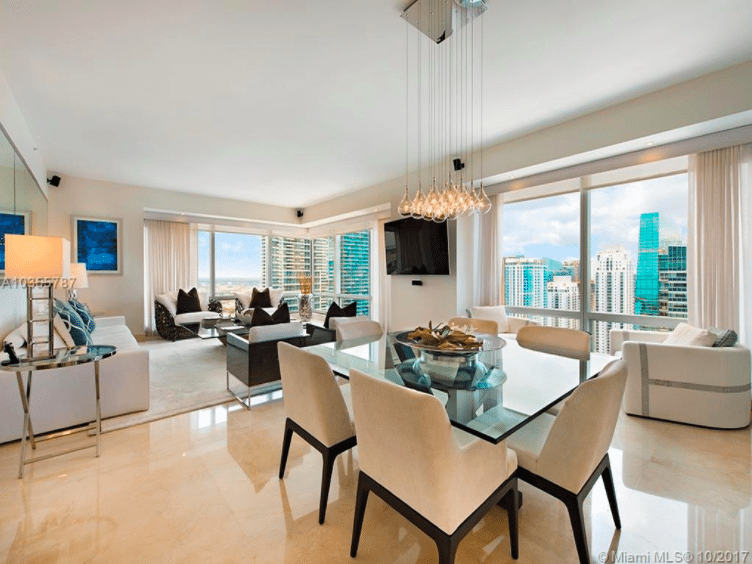 For today's Art Basel Trophy Property of the Day, we're going back to Brickell, to the classic yet chic Four Seasons Brickell with a celebrity-owned condo.
Back in 2013, Romain Zago, the owner of popular Miami Beach night club, Mynt, purchased this 2,139 square foot condo with his brand new wife, former Real Housewife of Miami, Joanna Krupa for $1.37 million. They made some changes to the design, lived out their happiness and re-listed the unit for $2.5 million after divorcing earlier this year. After no buyers surfaced, the price has steadily decreased until Monday, when it was reduced to $2 million.
The property is a 2 bedroom, 2.5 bath corner apartment with floor-to-ceiling windows overlooking the Brickell Financial District, Biscayne Bay, Port of Miami and Miami Beach. It is located on the 42nd floor of the 70-story tower and includes such amenities as an onsite Equinox Fitness and spa, lounging pool with hammocks hanging between palm trees in the pool, and full Four Seasons' Hotel amenities.
The Zago-Krupas are not the only celebrities to enjoy the Four Seasons. Rapper Gucci Mane recently wed at the property in a service and party that cost well over $1 million and was televised on BET, and the new owner of the Miami Marlins, Derek Jeter, recently toured options with his family. Mr. Jeter ultimately chose another building, which we will cover later in the week, but the Four Seasons Brickell is certainly a stand-out for celebrity real estate.