Brickell Homeowners Association Proposes Upgrades To 1814 Brickell Park
October 12, 2016
by Sarah Elles Boggs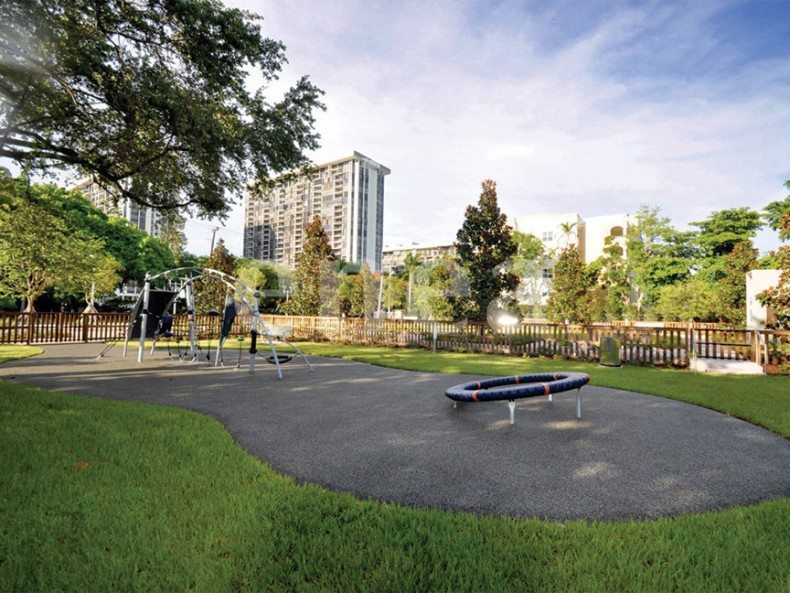 Five years ago, residents of Brickell were overjoyed at the addition of a new park designed by Enea Garden Design at 1814 Brickell Avenue. At the time, it was envisioned that the park would be frequented by "businesswomen in high heels" and "workers relaxing from the business district". Now that the park has been open for awhile, it is evident that they missed the demographic big time. The businesswomen and businessmen that were envisioned are instead young children with their mothers or nannies an nowhere to play.
Currently, the park has some picnic tables outside of the gated area and beautiful yet non-functional landscaping. The playscape is great for big kids and there is a dog park area. The dog park is really just a fenced in area with a bench, and I rarely see anyone there. Tibor Hollo donated a sculpture that was formed from beams from the 9/11 terrorist attacks and there is a CitiBike station.
As of now, the only parks for little kids nearby are Brickell Key Park and Alice Wainwright Park. Both are very nice, but not necessarily walking-distance for those living in the Brickell condos. Considering that we're one of the densest neighborhoods in America and Brickell residents make up 2/3 of Miami's tax base, there really aren't enough play areas for our little ones. In order to accommodate the 0-7 year old crowd, a few changes will need to be made such as:
– Remove the large landscaping and add better lighting for security purposes.
– Add a playscape suitable for smaller children. Ideally a slide and swings at the very least.
– Move the picnic tables into the gated playscape area so that the moms and nannies can watch over their children as they play.
– Install sunshades over the playground to protect the equipment and children from the sun.
A petition has been started on Change.org and needs just 135 more signature. I signed it here, will you?
1814 Brickell Park – Proposed Changes on Scribd