Market Stat Monday: Brickell on the River North
May 8, 2017
by Sarah Elles Boggs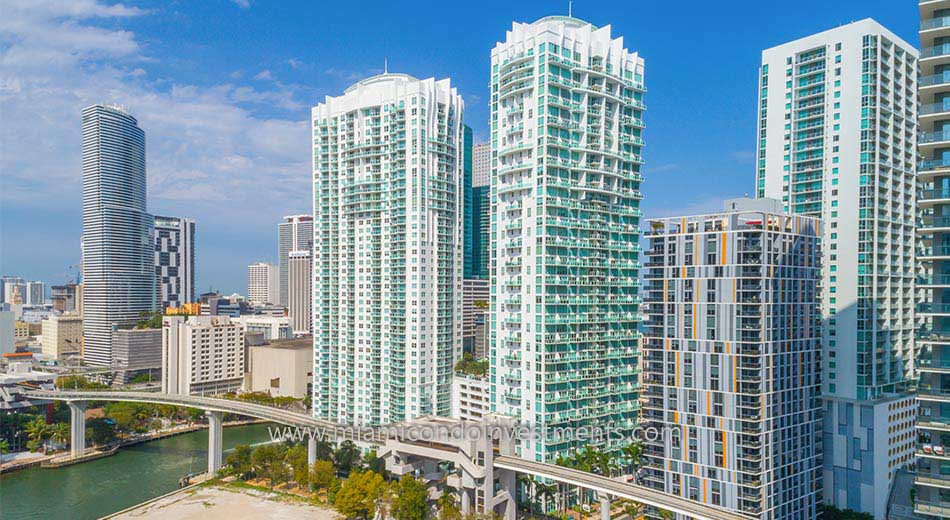 After a few weeks in the Miami Riverfront and Edgewater areas, we're going to jump back to Brickell for this week's Market Stat Monday and look into Brickell on the River's North tower. For the Brickell newbies out there, Brickell on the River was built in 2006 and has 2 towers that share an amenity deck and parking garage, but aside from that are very much different.
The north tower was the first to be built. It has 42 stories and a contemporary feel. The lobby is marble with wooden accents and the condos are all flat, with sizes varying from 1 bedrooms up to 3 bedrooms. The condo association has recently completed a face-lift to the hallways and lobby. I have always viewed this tower as a great option for both end users and investors alike since it has such a great mix of qualities that are attractive to most anyone. Once the north tower was complete, work began on the south tower, that was completed in 2007. The south tower has 46 floors and features a more modern design with duplex lofts rather than the flat apartments with separated bedrooms.
One of the big selling features of Brickell on the River lately has been the fact that it is the only building in Brickell that is approved for FHA financing. Sadly, I have to announce that this approval has expired, but conventional financing is still available.

Even without the FHA approval, the north tower hasn't been performing to badly lately. There have been 5 closed sales this year with an average price per square foot of $350. One thing that is interesting is the fact that of the 5 recent closings, two have been REO deals (foreclosures). Unit 2503 is a 1 bedroom that closed for a paltry $239,925, which worked out to $309/square foot. Before you go crazy about this ridiculously low-priced sale, you also have to acknowledge that this particular sale seems to have squatters, which are the buyer's responsibility. The listing noted that the property was occupied and no interior inspections were available… meaning the property cannot be seen in person. That's pretty hardcore.
In a less dramatic deal, unit 4019 is a two bedroom that closed for $370,000. This one was a Homepath deal, a foreclosure that was taken back by Fannie Mae. I saw this property in person and it was in great shape. It needed only some drapes and was ready to move-in. Someone got a very good deal. That unit would rent for $2,450/month by my estimates.
As for non-distressed sales, we saw a 1 bedroom trade for $330,000 ($365/square foot), and then a two bedroom corner unit that sold for $407,500 ($367/ft). On the 39th floor, a 2 bedroom with 2 parking spaces closed for $415,000.
Overall, the sellers who closed their units accepted 93% of their desired price, staying in line with the rates of negotiation we are seeing in other buildings.
There are currently 3 contracts pending in the building. One is a short sale that was listed for $360,000 for a two bedroom. This one has to be considered an outlier because who knows whether it will get approved and the buyer has to pay the seller's closing and legal costs. There's no telling how much that will amount to!
Units 1603 and 2403 are both one bedroom plans and are asking $299,900 and $299,000 respectively. We have also just listed apartment 803 for $283,000, so expect to see an offer come through very quickly!
Aside from apartment 803, there are 33 total active sales in the building. While that does work out to 33 months of inventory at the rate that closings are coming, it is also only 9% of the total units. That is a far better situation than some of the other buildings in the area.
One bedrooms start at $255,000 up to $325,000. Two bedrooms are between $384,000 to $485,000 aside from one two bedroom listing that is a short sale offered for $308,000. I can't believe we're talking about short sales again! Even with the short sales and foreclosures that are being marketed, since financing is still possible, I would still consider Brickell on the River North to be a relatively healthy building in this market.
On the rental side, we have seen 24 rented apartments in the last months with an average price of $2.33/square foot. One bedrooms range from $1,850-$2,100, two bedrooms from $2,300-$2,750 and 3 bedrooms around $3,400/month. The average marketing time is 46 days and owners are garnering 96% of their asking price. It is also important to make note that most of the rentals are transacting for the asking price, especially in the lower price points. Furnished rentals tend to be a bit more flexible since they are more challenging to fill, but the unfurnished units are not budging in price.
Current rental availability ranges from $2,150/month-$2,375/month for one bedrooms, $2,500/month-$2,850/month for two bedrooms and $3,200/month-$3,500/month for three bedrooms.