2 Bedroom Foreclosure at Carbonell in Brickell Key
July 10, 2007
by Lucas Lechuga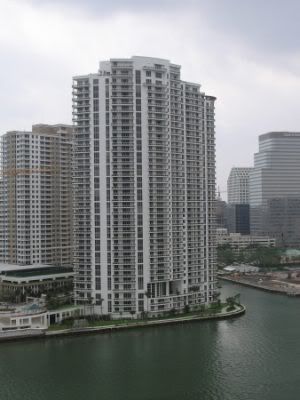 There's a 2 bedroom/2.5 bath foreclosure that just became available over the weekend at Carbonell in Brickell Key. Built in 2005, Carbonell is Brickell Key's most recent addition. The foreclosure unit is the best priced 2 bedroom unit in the entire building by quite a lot. It is listed at $649,900. The next best priced 2 bedroom at Carbonell is listed at $799,000. It is a bank owned property. Tax records show that there was an original mortgage on the property in the amount of $700,000. At the time of repossession, the mortgage amount owed was $699,627.
The foreclosure unit has 1,558 square feet of interior space, which equates to about $417 per square foot. The next best priced 2 bedroom condo at Carbonell is listed at $544 per square foot, located on the sixth floor, or one floor above the foreclosure unit. Taking a look at the Miami Condo Index for Brickell Key in June 2007 will reveal that Carbonell had an average list price of $592.56 per square foot, while having an average sales price $473.04 per square foot over the preceding six months.
In my experience, I've seen banks willing to accept what might seem like a crazy offer just to get the property off of their books. This could be a great opportunity to own a 2 bedroom at Carbonell for under $600,000. This past March, a 2 bedroom/2.5 bath sold for $700,000. It was located in the same line as the foreclosure unit, exactly one floor above it.
Update: Price was reduced to $634,900 on July 26, 2007.