Lobby Makeover Planned at The Club at Brickell Bay
August 12, 2010
by Lucas Lechuga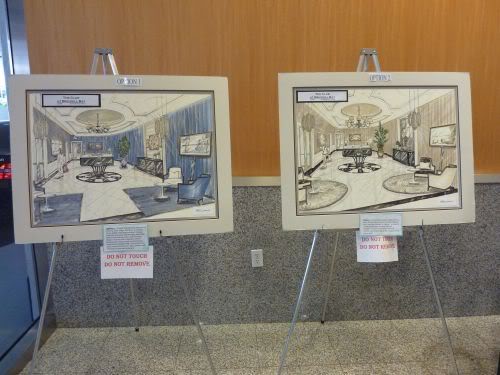 Late last week, I showed a few condos at The Club at Brickell Bay to a client.  On our way out, I noticed a pair of poster boards alongside a voting box in the lobby.  The voting box urged condo owners to vote for one of two plans to renovate the building lobby with the following descriptions below each option:
Option 1:  A royal blue scheme, referencing existing color tones, but done in a much more opulent and sophisticated manner, with new porcelain tile flooring, area rugs below new seating areas, wall covering, drapery feature wall treatment (while keeping the window wall unobstructed), reception/concierge desk, central feature table, ceiling treatments, light fixtures and artwork/accessories/greenery
Option 2: A neutral champagne scheme that is a more distinct color departure from the existing blue, but nearly identical to Option 1 in terms of architectural design treatment with the exception of a mirror installed in place of artwork, and circular rugs in lieu of square at the seating areas
The best news of all is that I heard that there's enough money in the budget to undertake such a project.  Maintenance fees will not increase as a result of the renovation project nor will a special assessment be levied.  Looks like the building has come a long way since management was replaced a few years ago.  I remember the days when The Club at Brickell Bay had difficulties paying its own operating expenses.