Latest Renderings of SLS Brickell Residences
March 29, 2013
by Lucas Lechuga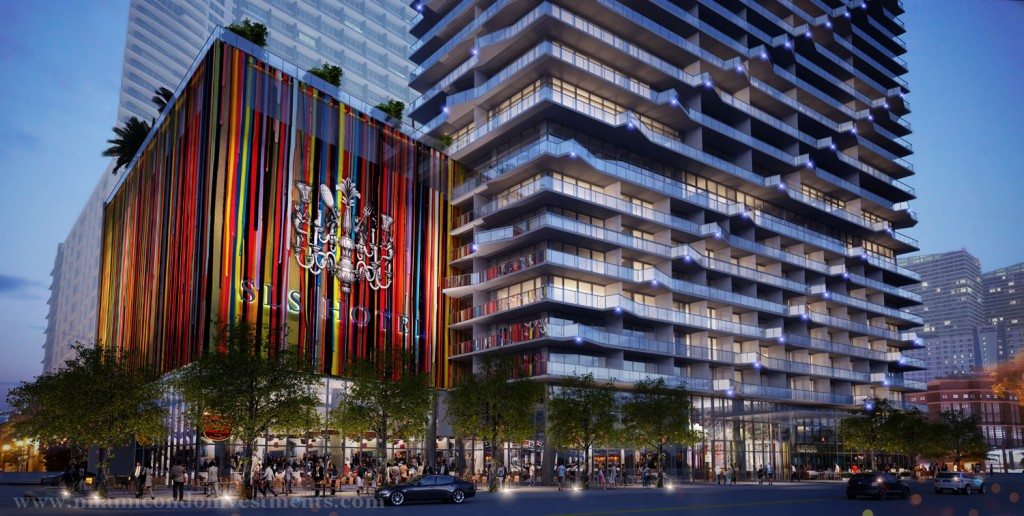 I have to admit, until just hours ago, I hadn't been overly excited about the recently announced SLS Brickell Residences. The first rendering, which was released to the public about a month ago, was rather boring.  Being a foodie, the only thing that really excited me about the development was the fact that three amazing restaurants would be on-site: Bazaar by Jose Andres , Katsuya by Starck and a restaurant by Michael Schwartz.  I'm a big fan of Michael's Genuine so to have a brand new restaurant by Michael Schwartz only an elevator ride away sounded very appealing to me. Oh, and having a 250-foot long elevated pool - which I'm sure will be surrounded by some of Miami's most beautiful women - didn't sound so bad either.  However, I just couldn't get my mind off that very unexciting rendering of the development that made its way into my inbox last month.

That was the past though.  With the latest rendering above, I'm back on board and am very excited about SLS Brickell Residences.  It looks visually stunning and whoever created it did an outstanding job!  Street-level, the rendering gives off a sense of activity and energy, which I have no doubt will be delivered true to life given the inclusion of the SLS Hotel, the three aforementioned restaurants and on-site Jazz bar.  Mark my words, this is going to be the "in" place to be and live in Brickell once this development is completed.  The party starts here!

As I had previously posted, reservations for condos at SLS Brickell Residences are now being accepted.  Prices are expected to average around $500 per square foot.  I had previously been advising clients to stay away from the west-facing units because  they will look straight into units at Infinity at Brickell.  However, the rendering above shows that the west-facing units will also have the privilege of checking out the activity down below at the pool deck.  If you are planning to buy a west-facing unit, my advice is to go for a low floor.  There is no point in buying a high floor on the west side of the building when the action will be down below.  The price per square foot will be much lower as well.

Contact me if you have an interest in learning more about this exciting pre-construction condo and hotel development which will be located at 1300 South Miami Avenue in Brickell.  You can find the brochure, floor plans, video and other information regarding this development on my SLS Brickell Residences page.