January 2017 Brickell Real Estate Market Update
February 11, 2017
by Sarah Elles Boggs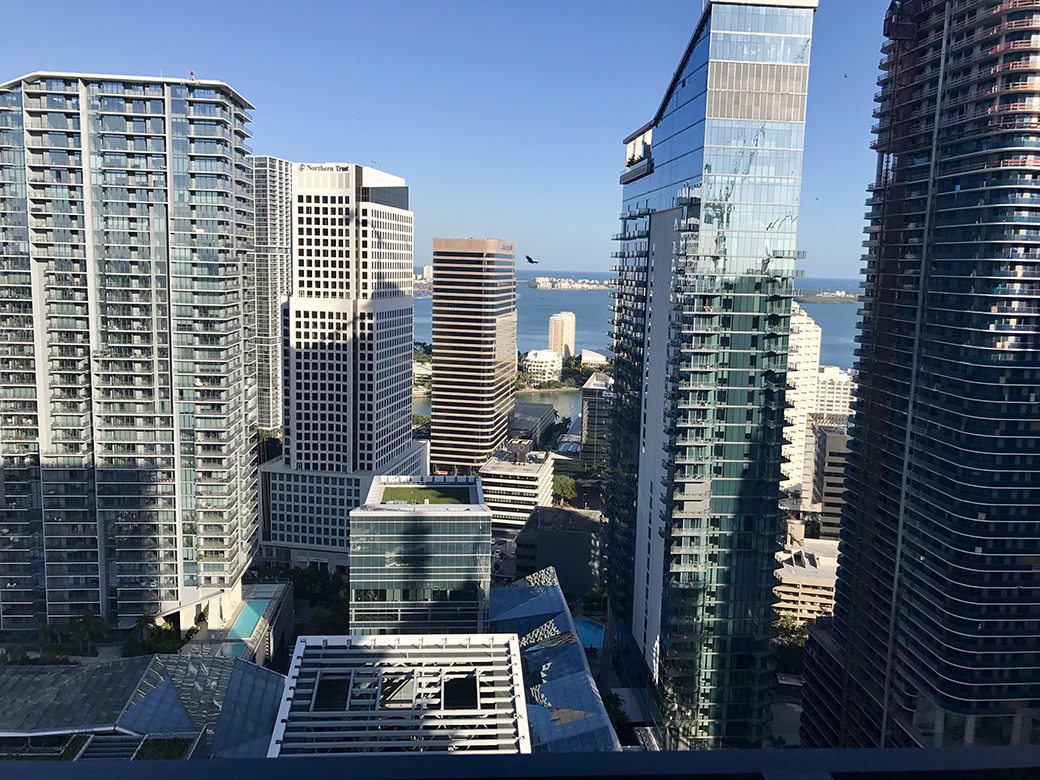 This is a very interesting time in Miami's real estate market and we are going to start doing more regular market updates of the various neighborhoods and even individual buildings. We'll start with Brickell, but don't hesitate to reach out and make a request if there is a specific neighborhood or building that you are curious about.
SALES MARKET
January 2017 brought 41 closed sales in Brickell, according to MLS data, down from 66 in January of 2016. These were seller to buyer transactions, not developer to buyer transactions, since developer to buyer transactions are not reported in the MLS. We will do a separate post with developer-buyer transactions for each building as they open and the sales are recorded.
Although the number of transactions fell, the average price rose to $514,000 for those 41 closed sales. 2016's average price was $500,000. The average price per square foot also rose to $412/square foot, up from $401/square foot last year. The condos that found buyers had an average time on the market of 163 days, last year was 114 days. It seems the longer marketing time and increasing inventory choices for buyers has made the sellers more eager to sell. The buyers who transacted were able to negotiate down to 92% of the asking price this January, down from 97% of the buyers who bought last January.
The most expensive listing that sold this month was Tower Suite 3801 in Reach at Brickell City Centre. It sold for $1.95M and was offered at $2.1M and the buyer was represented by our very own Lucas Lechuga. We did an in-depth look at the numbers from that transaction last week. The least expensive sale of the month was a $168,000 studio at Brickell's original condo building, the Four Ambassador.
As of today, there are 1,888 active listings in Brickell (300 of which are new listings in January), averaging $725,000 and $508/square foot. If we continue selling at this rate, we have enough inventory for 46 months of business. With this amount of available alternatives for the buyers, the sellers who are eager to move on from their units need to not only price them aggressively but also hire an agent with strong marketing power so that you stand out from the crowd.
RENTAL MARKET
There were 306 new leases signed in January of this year, up from 264 in 2016. The average rental price is $2,466/month, basically the same as last year's $2,440. The 306 landlords who found new tenants beat out the competition of 1,442 alternative active listings, 465 of which were new listings.
Although the number of transactions is up and the prices are holding firm, the marketing time is increased this year to an average of 79 days on the market. Last year it took an average of 65 days to find a new tenant and move them in.
Tenants should not smell blood in the water yet though. The 306 leases that were signed garnered 96% of the asking price, so lowballing isn't a thing just yet. The landlords who are not into 2+ months of vacancy are pricing their units well and finding a tenant quickly.
The most expensive rental of the month was the Four Seasons Residences Unit 44C. That one rented for $9,750/month. The least expensive was a studio at The Club at Brickell Bay for $1,400. It is important to note that the entry-level apartments in the neighborhood are less likely to negotiate price. Brickell is increasingly a hot neighborhood, so the entry point options are very much in demand.
What trends do you anticipate for Brickell? Weigh in and we'll follow back up next month!