Introducing the Brickell and Downtown Miami Condos Google+ Community Room
November 25, 2013
by Lucas Lechuga

Let's hope that three time's a charm.  Since launching this website in 2007, I have attempted on two separate occasions to introduce a forum which would allow those with an interest in Miami real estate to communicate and share with one another related content such as pictures, videos and new stories.  Both attempts failed, mainly due to bots who would litter the forum with an insane amount of spam.  It was impossible to keep up with and a huge waste of time even attempting to do so.
A year ago next week, Google launched a service called Google+ Communities which allows people to form groups based around a specific topic.  Since then, I have joined a variety of communities and have been very impressed with how clean and spam-free these groups can be.  This is mainly due to the requirement in which participants must log-in using their Google account.  The fact that there is a face and profile attached to a name keeps everyone, for the most part, on their best behavior.
Earlier this year, I created a Google+ community room called Brickell and Downtown Miami condos.  It is my hope that this will end up being a sort of round-table for all interested parties to discuss and share freely content related to the topic at hand.  As stated above, to join you must have a Google account.  This helps keep the forum clean and free of spam.  Presently, there are 29 members.  My goal is to get that number up to 100 members by the end of next month and 1,000 by the end of 2014.  The success of this room, however, will heavily rely on your participation.  So, please take the time to join the communities room, introduce yourself and share a piece of content if you have anything interesting to share.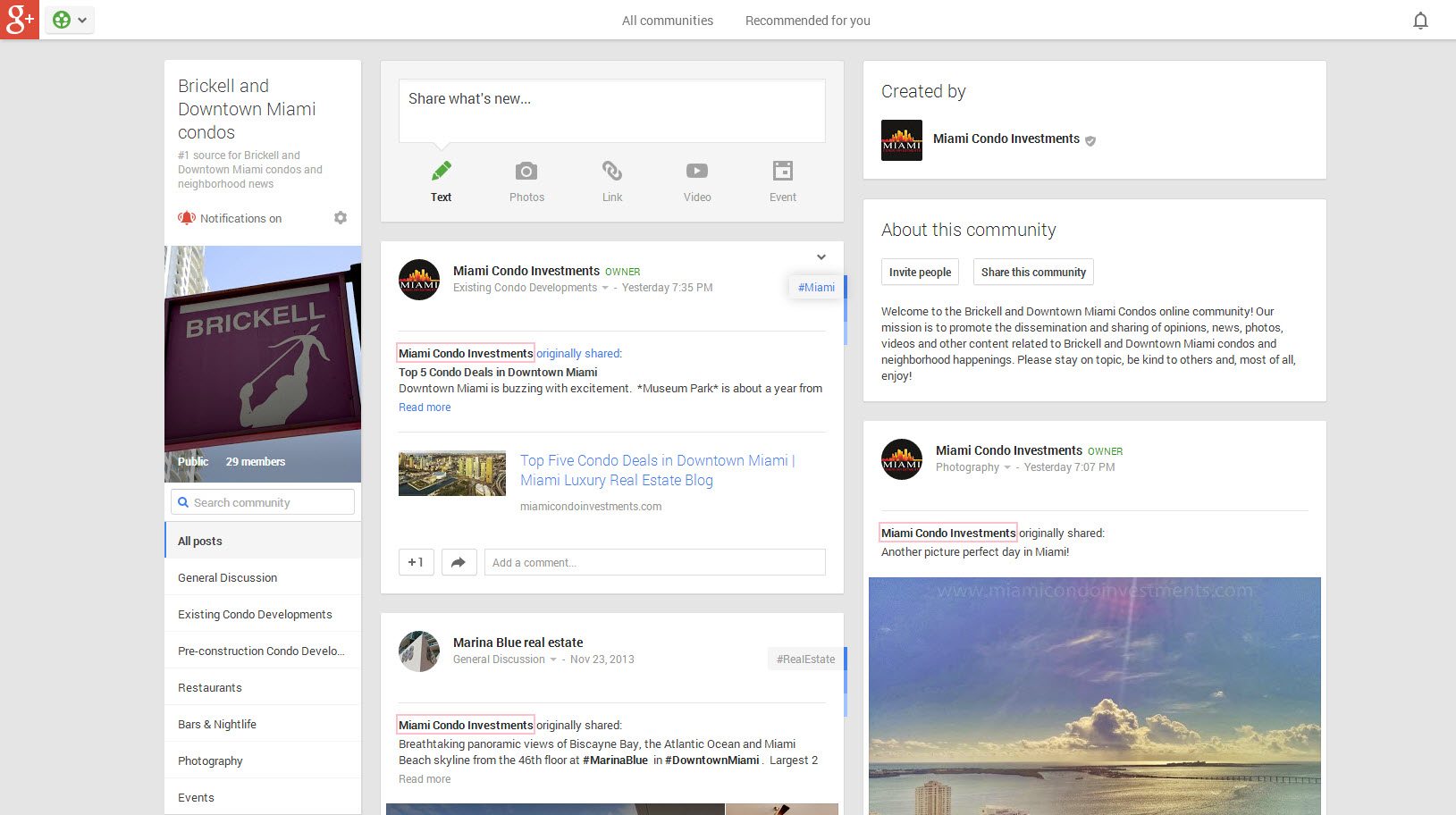 o