Icon Brickell – 2 Bedroom+Den/2 Bath Becomes Available
June 8, 2007
by Lucas Lechuga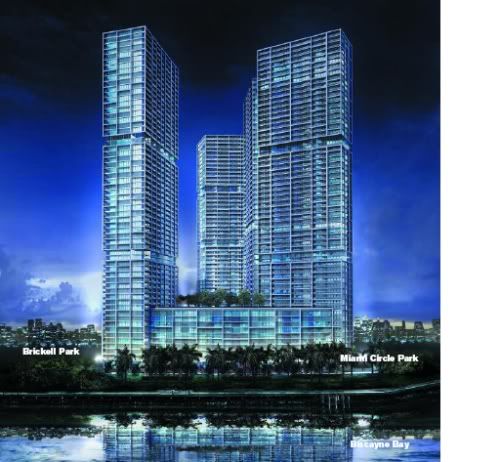 Word came to me today that an early contract holder at Icon Brickell has passed away and his contract is up for grabs. The contract has passed from his estate to the developer and The Related Group has it back on the market at the initial price offered when it was purchased in mid-2005. Icon Brickell sold out relatively fast in 2005 and availability is now limited to the condo-hotel units in the Viceroy tower. The Related Group is the most successful developer in Florida and has the reputation of selling out their buildings within the first week. They are known to price their units very well and to leave profit on the table for purchasers rather than squeeze every last penny out of a project. They price their units slightly below market, sell out and then move onto the next project. Great business plan, and it has worked quite well for them.
The condo unit that just came back on the market is unit 2703, located in tower one of the Icon Brickell development. It is floor plan B, which has a southeast view. The picture below will give you an idea of the view that you would have.
It is a 2 bedroom plus den/2 bath with 1,503 square feet of living space and has a 219 square foot balcony. It is priced at $916,000, or $607 per square foot.
Icon Brickell is the second development with the Icon name attached. Icon South Beach was the first and is one of the most well known buildings in South Beach. Icon Brickell is sure to be as spectacular as its South Beach counterpart. The picture slideshow below will show you some renderings of the building and amenities.