Emerald at Brickell 3 Bedroom/4.5 Bathroom Penthouse Looks Like a Steal
September 8, 2007
by Lucas Lechuga
This past week I came across a 3 bedroom/4.5 bath Penthouse condo at Emerald at Brickell that is priced at $975,000. I had to do a double-take when I saw the listing because I know that the 2 bedroom residences at Emerald at Brickell are listed in the $900K's to as high as $1.45M. The listing shows this 3 bedroom/4.5 bath condo as having 2,847 square feet of living space.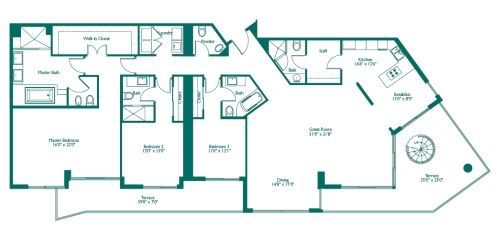 I believe there are only 4 Penthouse units at Emerald at Brickell. Currently, this is the only Penthouse condo that is available on the market at Emerald at Brickell. The Penthouse units have a spiral staircase which lead to the rooftop pool and fitness center. The views from the pool deck are the best that I have seen from the pool deck of a condo building in Miami. (Unfortunately, the picture below shows only a bit of how great the views are from the rooftop).

Penthouse condos are supposed to sell towards the high end of a building's average price per square foot. The August Brickell Condo Index revealed that condos at Emerald at Brickell had an average list price of $535.01 per square foot while condos sold over the previous six months had an average price of $474.85. This 3 bedroom/4.5 bath condo at Emerald at Brickell is listed at $342.47 per square foot. This seems like a steal to me.
I haven't been able to get a hold of the listing agent, however. The only contact number that accompanies the listing is that of his office. I've called and they have told me that he is out of the country and are not sure when he will return. The price may be a misprint but if it it is not, then I assure you that this is a fantastic deal.
A 3 bedroom/3.5 bath Penthouse sold for $1.25M in October of 2006. That unit has 3,098 square feet. That amounts to $403.49 per square foot. With the views that the penthouse units offer at Emerald at Brickell, I think anything under $1M is a bargain. This is an east-facing penthouse condo by the way.