Coming Soon: Sushi Siam at Plaza on Brickell
March 2, 2008
by Lucas Lechuga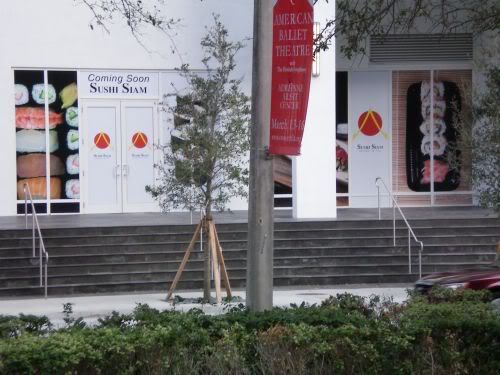 Last week I noticed the above sign, "Coming Soon: Sushi Siam," as I drove by Plaza on Brickell. This is great news not only for Plaza on Brickell but also the entire neighborhood of Brickell.

Sushi Siam is a very well known sushi restaurant located on Lincoln Road in South Beach. I find it very interesting that more and more establishments are deciding to expand their operation from South Beach into Brickell. A few years ago, Novecento, a restaurant and bar, made the expansion move and recently we saw Segafredo Cafe, a restaurant and lounge, make the move as well. It shows me that these establishments are quite confident that Brickell already has enough year-round residents to justify such an expansion. (I just wish Lime Fresh Mexican Grill would make the jump as well. I heard a while back that they committed to opening their third restaurant at Midtown Miami though.)

Eventually the commercial spaces found on the ground level of the new condo buildings in Brickell, such as Plaza on Brickell, will be a natural extension of Mary Brickell Village, with new retail stores and restaurants. That's when we'll really start to see the foot traffic in Brickell.

By the way, I was digging through some old pictures that I took in July 2005. Remember what Plaza on Brickell consisted of back then?