Brickell Heights Sales Presentation Through Google Glass
December 3, 2013
by Lucas Lechuga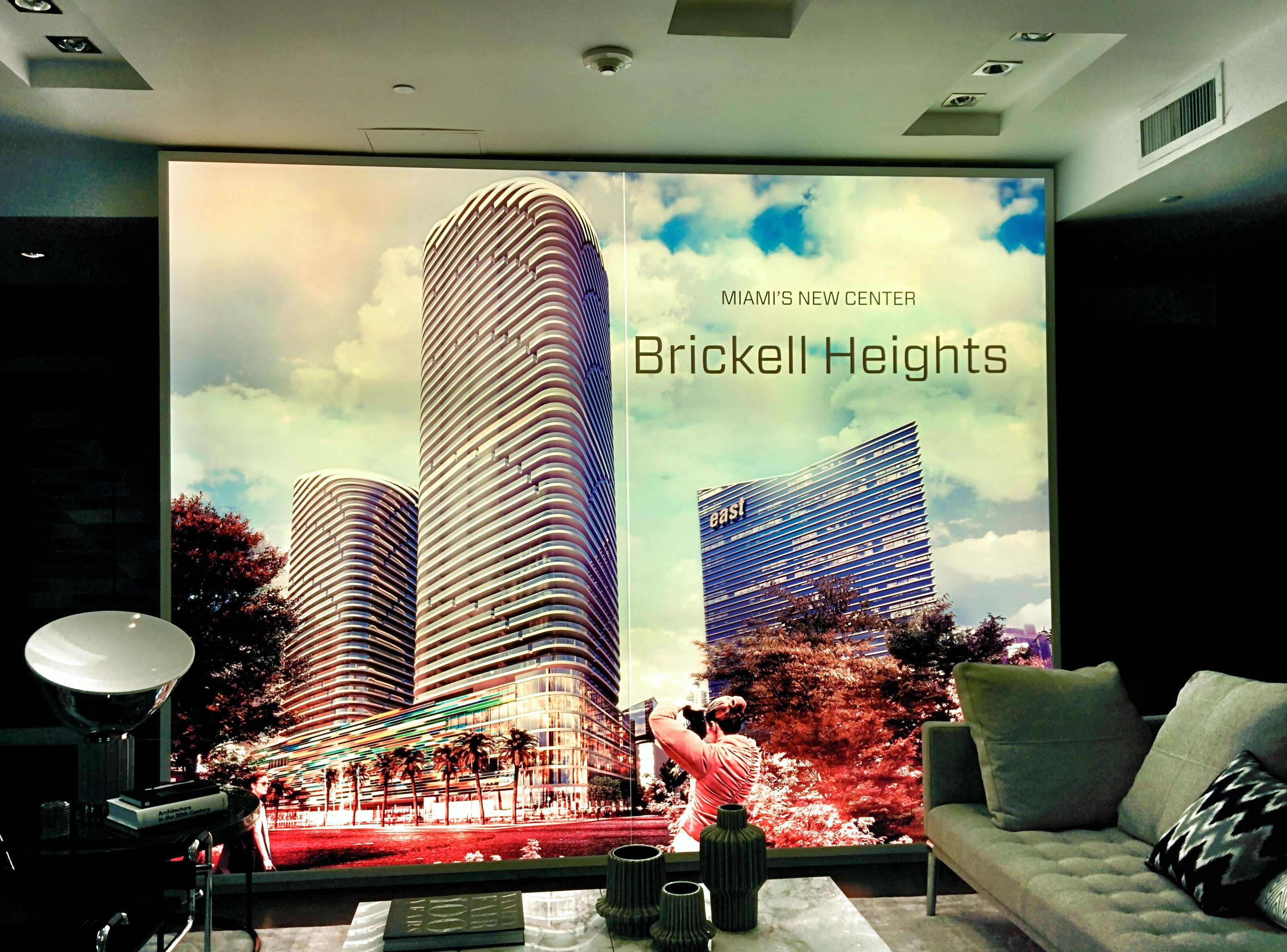 Brickell Heights will officially launch to the public starting next week on December 9th.  However, reservations are now being accepted through select VIP brokers (such as myself) as part of the developer's Friends & Family program.  The starting prices shown towards the bottom of this page are for Friends & Family and are subject to change once the project officially launches next week.  Brickell Heights is a two-tower condo development.  At this time, only units in the east tower are available for reservation.  Keep in mind that the east tower is closer to the water and will have better views than those residing in the west tower, so now is the time to act if you are contemplating making a reservation.
Yesterday afternoon, I met with the Brickell Heights Sales Director and she was kind enough to give me a presentation while I was wearing Google Glass to record it.  At a later date, I will go more into detail about Google Glass and explain how I plan to apply this new technology to my real estate business.  I have very big and exciting plans for it, so stay tuned!  I will say, however, that at this time, Google Glass is not available to the public and can only be acquired by invitation.  As far as I know, I am the only real estate agent in Miami who currently has Google Glass.  In fact, there aren't many people in Miami period who have it at this time.
The sales presentation for Brickell Heights was given to me in English and Spanish.  Towards the bottom of this page you will find the English version followed immediately by the Spanish version.  Before we get to those, I first want to provide a general overview of this exciting preconstruction condo development.  As I mentioned in my last blog post, location is going to be a HUGE selling point for Brickell Heights because it will be located right in between Mary Brickell Village and the upcoming, 5.4 million square foot mixed-use development called Brickell City Centre.
Brickell Heights – Overview
Address – 850 South Miami Avenue, Miami, Florida 33131
Developer – The Related Group in collaboration with Crescent Heights
Architect – Internationally-renowned architectural firm Arquitectonica
Interior Design – Rockwell Group
Number of units – the east tower of Brickell Heights has 358 total units
Number of floors – the east tower of Brickell Heights has 48 stories
Fitness – Equinox
Brickell Heights – Building Features
Dramatic double-height lobby designed by David Rockwell
World-class façade installation by renowned Argentinean artist Fabian Burgos
High-design condominiums with extraordinary contemporary finishes
Luxuriously landscaped pool terrace at the 8th floor with three pools including a lap pool for Equinox members
Elegantly appointed screening room available for private screenings
Exclusive residents-only rooftop Sky Pool deck with breathtaking views of Biscayne Bay and Miami Skyline
High-performance fitness studio
Equinox fitness center with 30,000 square feet across three levels
Soul Cycle Studio with 3,000 square feet
Two beautifully designed Entertainment Rooms available for private, social and business events
Engaging Kids' Club dedicated to children's activities
On-demand Concierge service with 24/7 multilingual staff, 24/7 security and receiving desk for mail and other deliveries
High-speed Internet access in all amenity areas
Unit Descriptions and Price Ranges (*Friends & Family pricing)
| | | | | |
| --- | --- | --- | --- | --- |
| Line | AC SqFt | Floor Plan | FROM | $/SqFt |
| 01 | 1206 | 2 Beds/2 Bath | $577,900 | $479 |
| 02 | 859 | 1Bed + Den/2 Baths | $453,900 | $528 |
| 03 | 1,276 | 2 Bed+Den /2.5 bath | $702,900 | $551 |
| 04 | 960 | 1Bed+Den/2.5 Baths | $462,900 | $482 |
| 05 | 965 | 1Bed+Den / 2 Baths | $454,900 | $471 |
| 06 | 1,178 | 2Bed+Den/2 Baths | $570,900 | $485 |
| 07 | 676 | 1 Bed/1Bath | $331,900 | $491 |
| 08 | 1,054 | 2 Bed/ 2 Baths | $506,900 | $455 |
| 09 | 856 | 1 Bed/1.5 Baths | $389,900 | $462 |
| 10 | 843 | 1 Bed/1.5 Baths | $376,900 | $447 |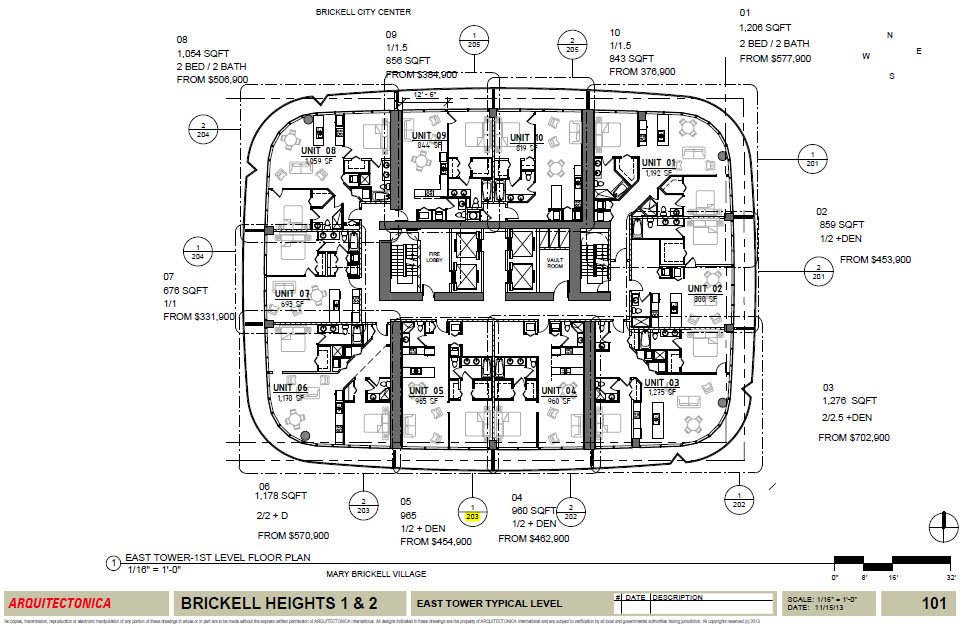 The layouts indicated above are for units residing on floors 10-40.  Larger floor plans are available starting on the 41st floor.  Contact me for details.  1 bedroom units increase $2,000 per floor while 2 bedroom units increase $3,000 per floor.
Brickell Heights – Deposit Payment Structure
10% of purchase price at reservation
10% of purchase price at contract (1st quarter of 2014)
20% of purchase price at ground-breaking (mid-2014)
10% of purchase price at top-off (mid-2015)
50% of purchase price at closing  (end of 2016)
Now that we have all that out of the way, let's watch some videos.
Brickell Heights sales presentation in English:
Brickell Heights sales presentation in Spanish:
Even if you do not have the means or motivation to acquire a condo in Miami at this time, I think most anyone reading this blog will find the video below fascinating.  It does an amazing job in capturing the enormity of Brickell City Centre.  At 5.4 million square feet across 9.1 acres, Brickell City Centre is an absolute monster and will forever change the landscape of Miami.  Brickell is already one of the most sought after neighborhoods to live in all of South Florida.  You throw into the mix a development of that size costing over one billion $US, and you are going to have a world-class neighborhood for the ages. In the video, the five large, empty lots just north and northeast of the Brickell Heights building site is where Brickell City Centre will be located. It is currently under construction and is projected to be completed in 2016, the same year that Brickell Heights is scheduled for completion.  The arrows that I included in the video point out the site location for Brickell Heights.
For additional information related to Brickell Heights, visit my Brickell Heights building profile page.  There you will find renderings, floor plans and an e-brochure.  If you have an interest in reserving a unit, or have any questions whatsoever, please contact me immediately.  I expect this project to sell out quickly and am already amazed by the response that I have had for it thus far.  When it comes to convenience and having everything at your doorstep, you really can't ask for a better location than Brickell Heights – especially at these prices!
I can be reached via email at lucas@miamicondoinvestments.com or on my cell at 786-247-6332.
To stay on top of the latest news related to the Miami real estate market, circle Miami Condo Investments on Google+.  Be sure to also subscribe to our YouTube channel to catch all our upcoming videos through Google Glass.