2 Bedroom Foreclosure at Latitude on the River – $266,000
January 16, 2009
by Lucas Lechuga
Within the past three months, I've seen a handful of short-sale condos at Latitude on the River become available on the MLS.  Earlier today, however, I came across the first bank-owned foreclosure condo in the building to appear.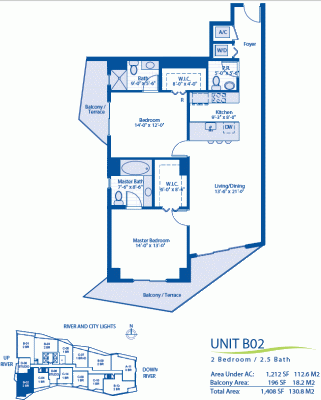 The foreclosure condo is a 2 bedroom/2.5 bath with 1,212 square feet of interior and a 196 square foot balcony.  The condo comes "decorator-ready" with concrete floors, as delivered by the developer, and is located on the southwest corner of the 20th floor.  The list price is $266,000, or $219 per square foot.  The most recent Brickell Condo Index published in November 2008 revealed that the average list price of condos available at Latitude on the River was $366 per square foot.  There had not been any closed sales in the building at the time within the prior six months and there haven't been any since.  Lack of closed sales clearly means that prices of available condos at Latitude on the River haven't yet fallen to a level that will attract buyers.  It'll be interesting to see if the 2 bedroom foreclosure condo at Latitude on the River will spark the interest of buyers.
View the pictures and listing information for the 2 bedroom condo foreclosure at Latitude on the River.