A Review Of The Penthouse At Brickell City Centre's Reach Tower
November 13, 2017
by Sarah Elles Boggs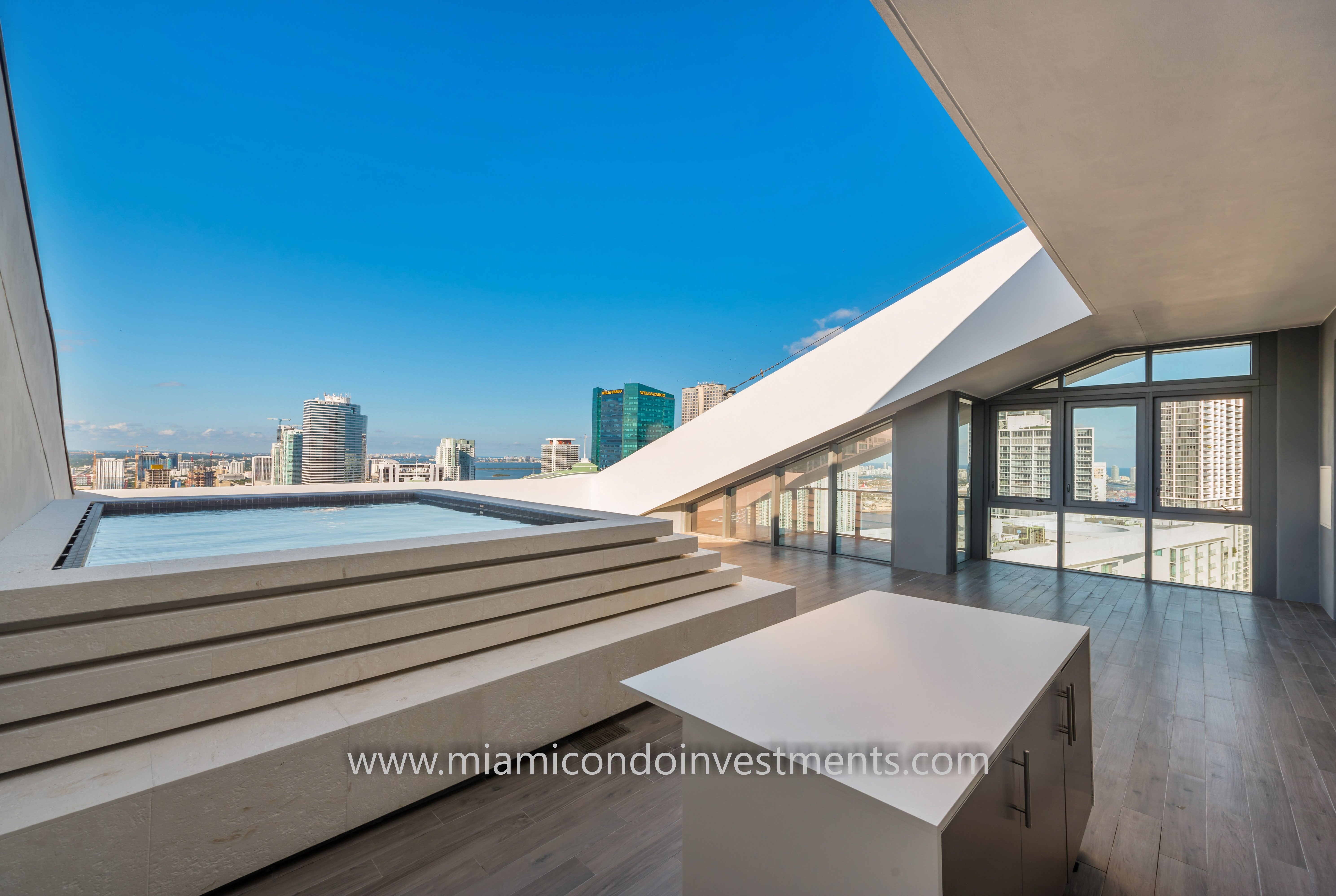 If you've ever dreamed of living in a palace in the sky, but also dreamed of living on top of an elegant shopping district, but also dreamed of living in a condo that was perfect for entertaining AND perfect for family, then we've got just the thing for you. Swire has released the newly finished upper penthouse at Reach Tower above Brickell City Centre and it does not disappoint.

Before we go to the review and photos, here are the specs:


Penthouse 4203


4 bedrooms, 3 baths, 2 powder rooms, 2 family rooms, 4 terraces, service quarters, rooftop pool & summer kitchen
Interior Size: 4,346 square feet
Exterior Size: 1,823 square feet
Price: $6,650,000



The Views



Starting with the views since many people in the $5 million-plus price range automatically ask for waterfront options, let me show you why I consider high floors in the city to be a better option...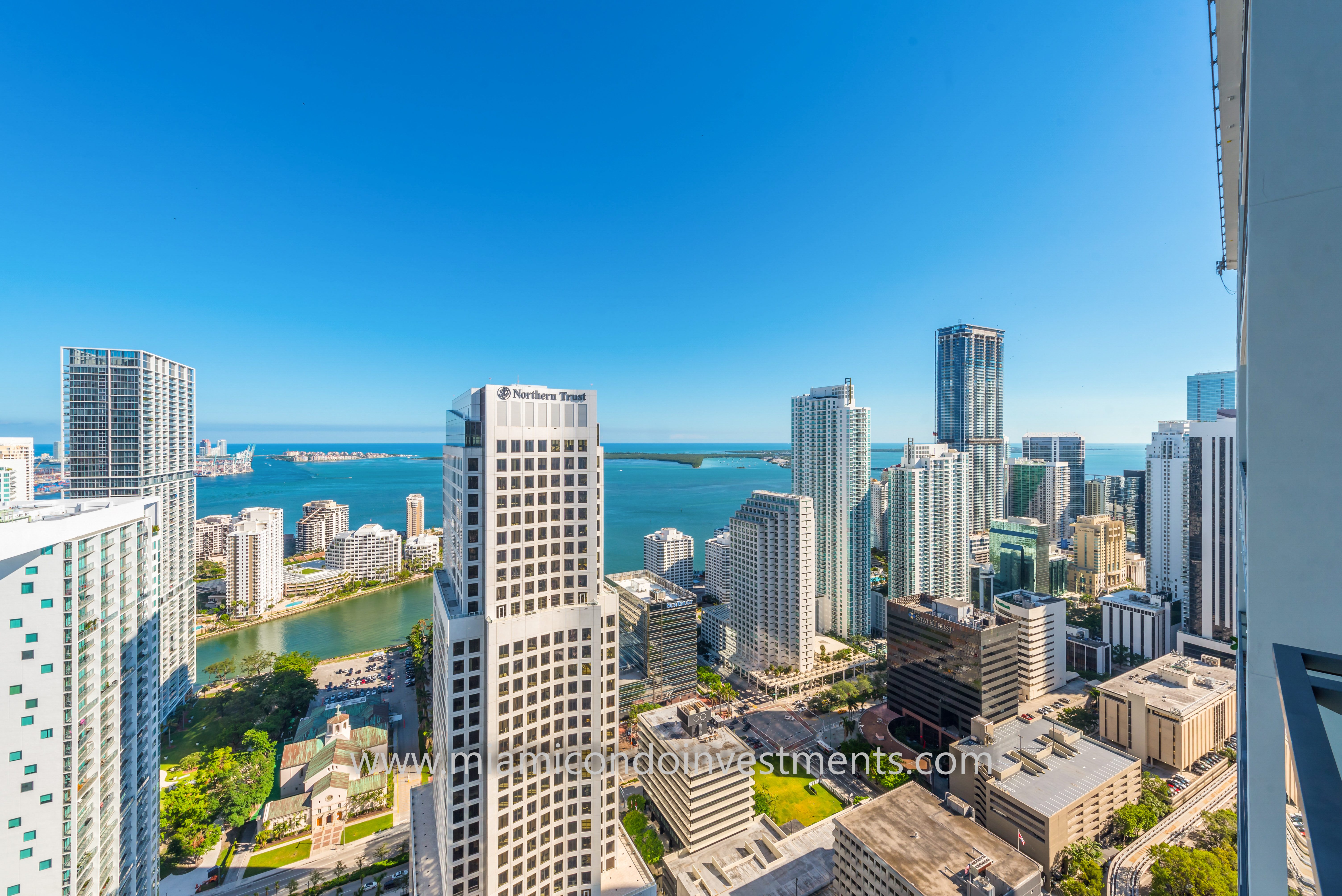 If you're in a waterfront condo, the blue water is pretty, but what will you look at after the sun goes down? Nothing. With the high floor city view, you still see the beautiful blue water of the Biscayne Bay AND the Atlantic Ocean, plus the glittering city lights at night. Gorgeous.

Speaking of water views and glittering city lights, how about you enjoy them from your private rooftop pool? Or maybe throw together a little al fresco dinner party in your summer kitchen?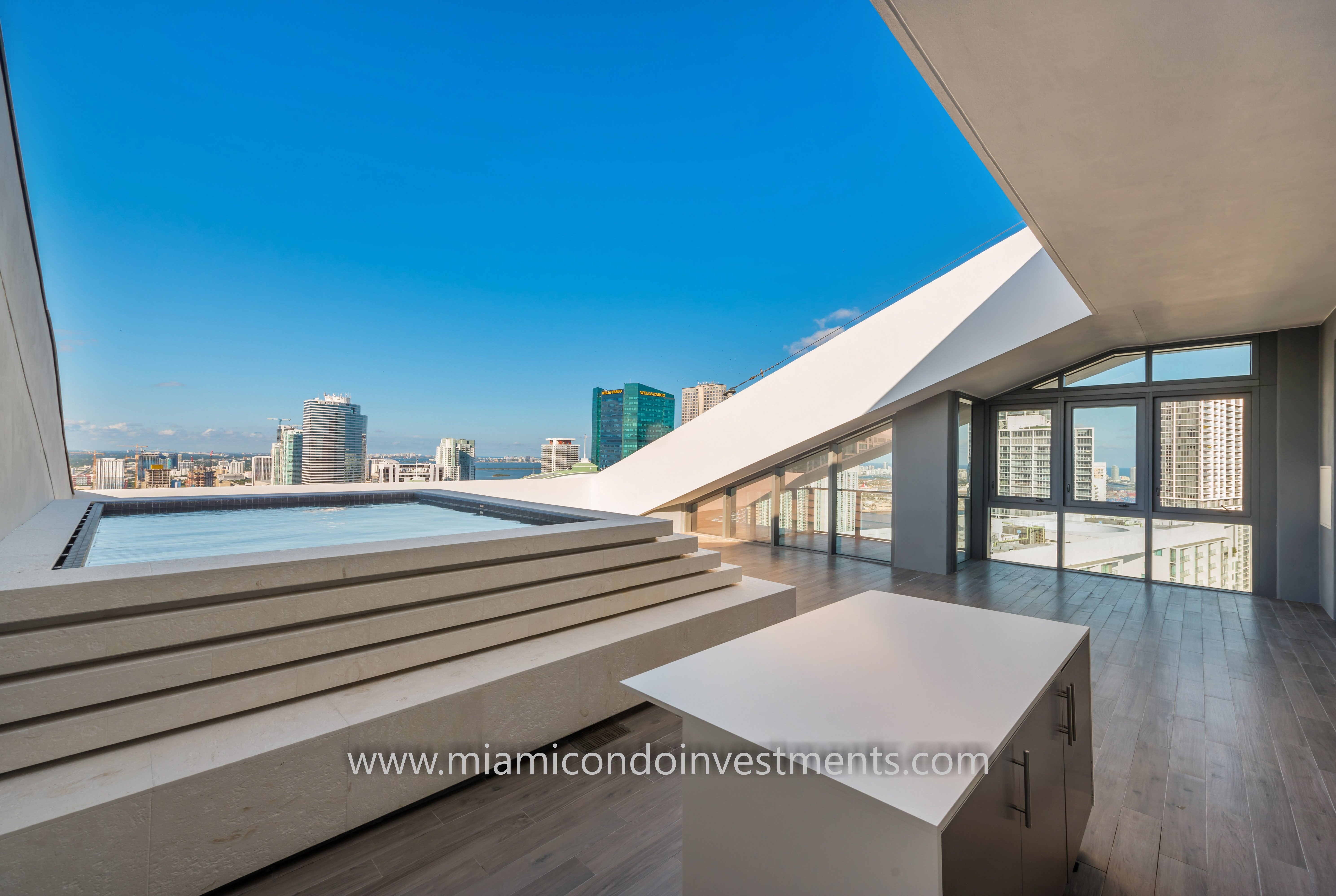 To the West, you can see the city lights at night all the way to the Everglades.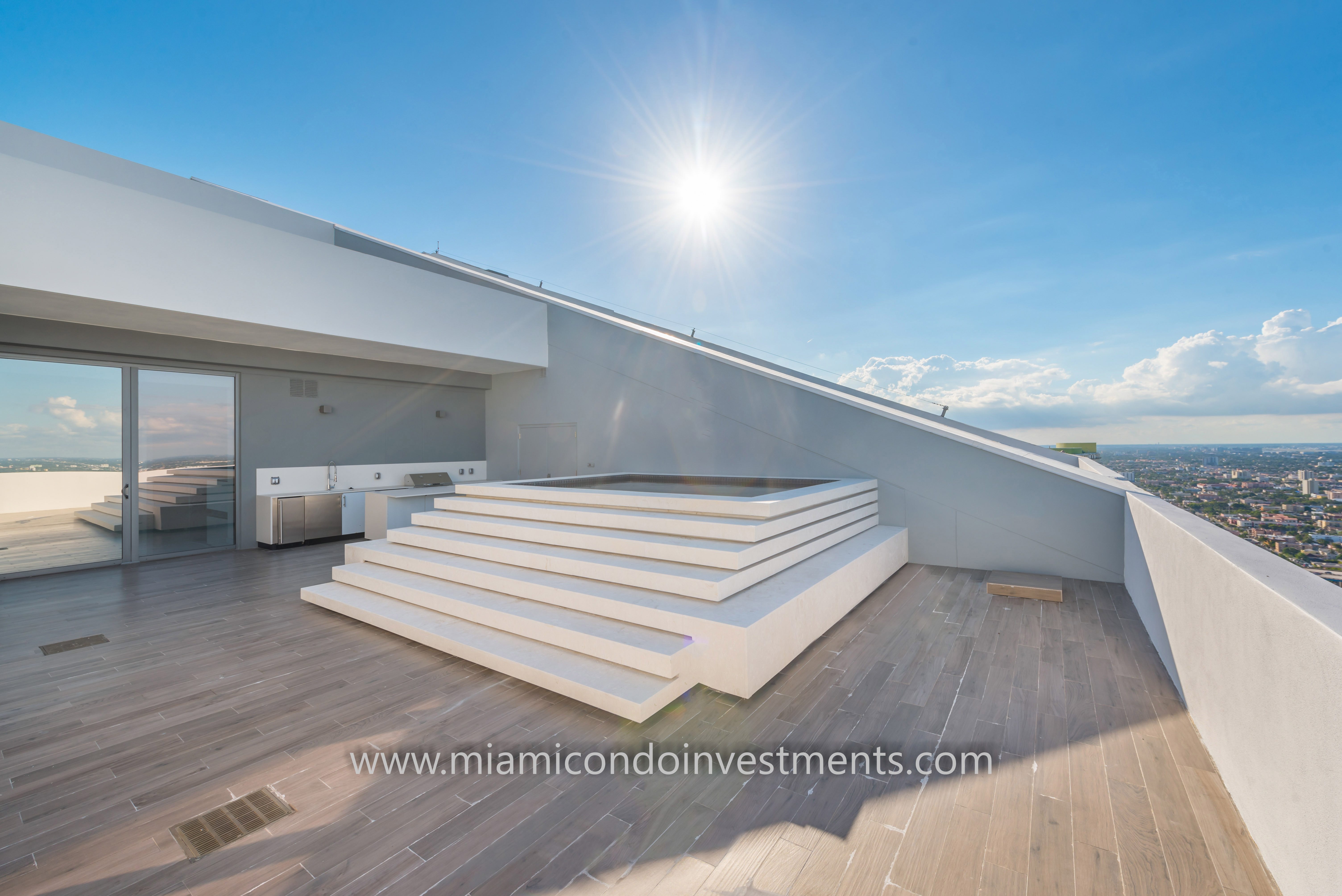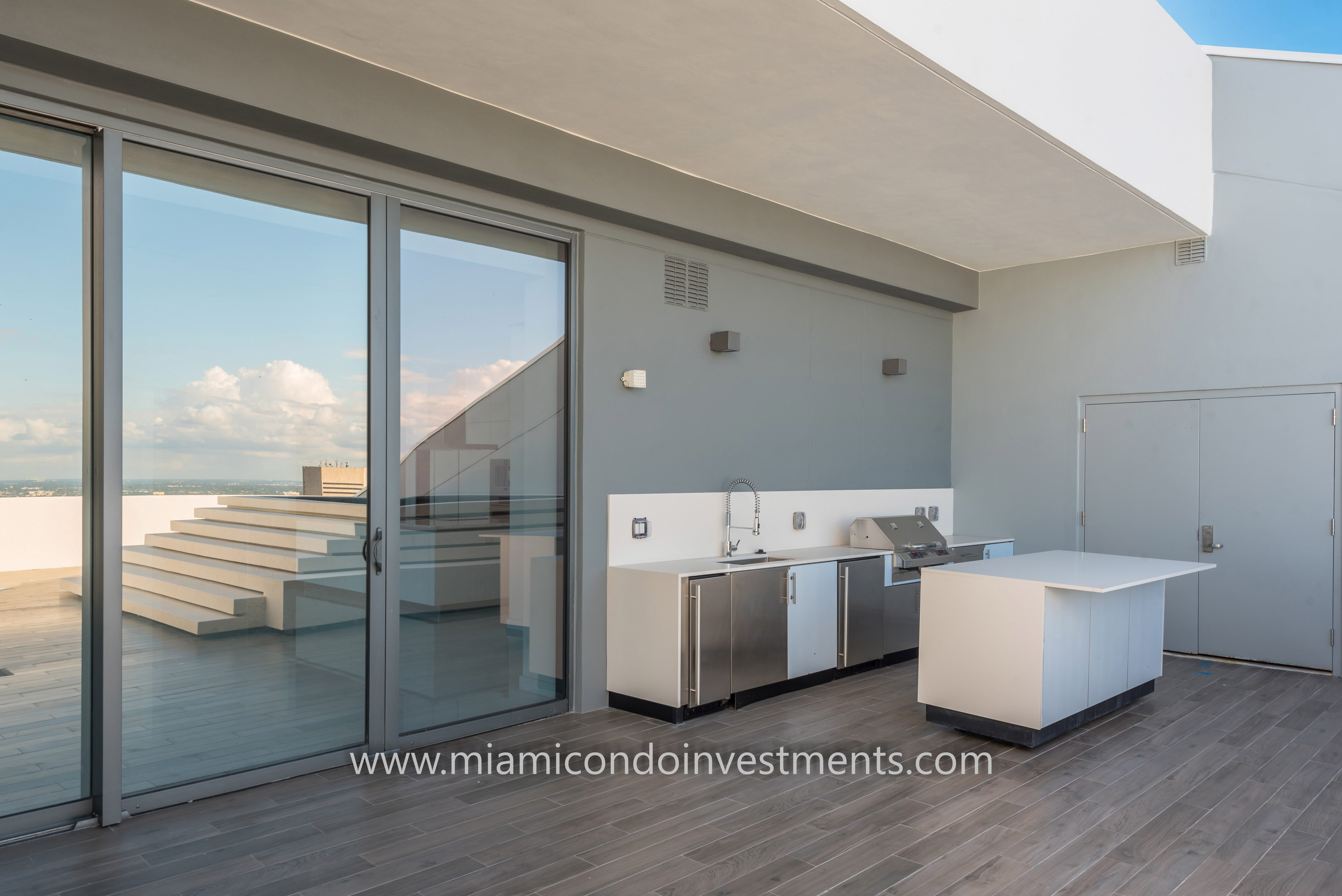 The South view also offers more distant water views as the coastline tapers in through South Brickell, Coconut Grove and Coral Gables.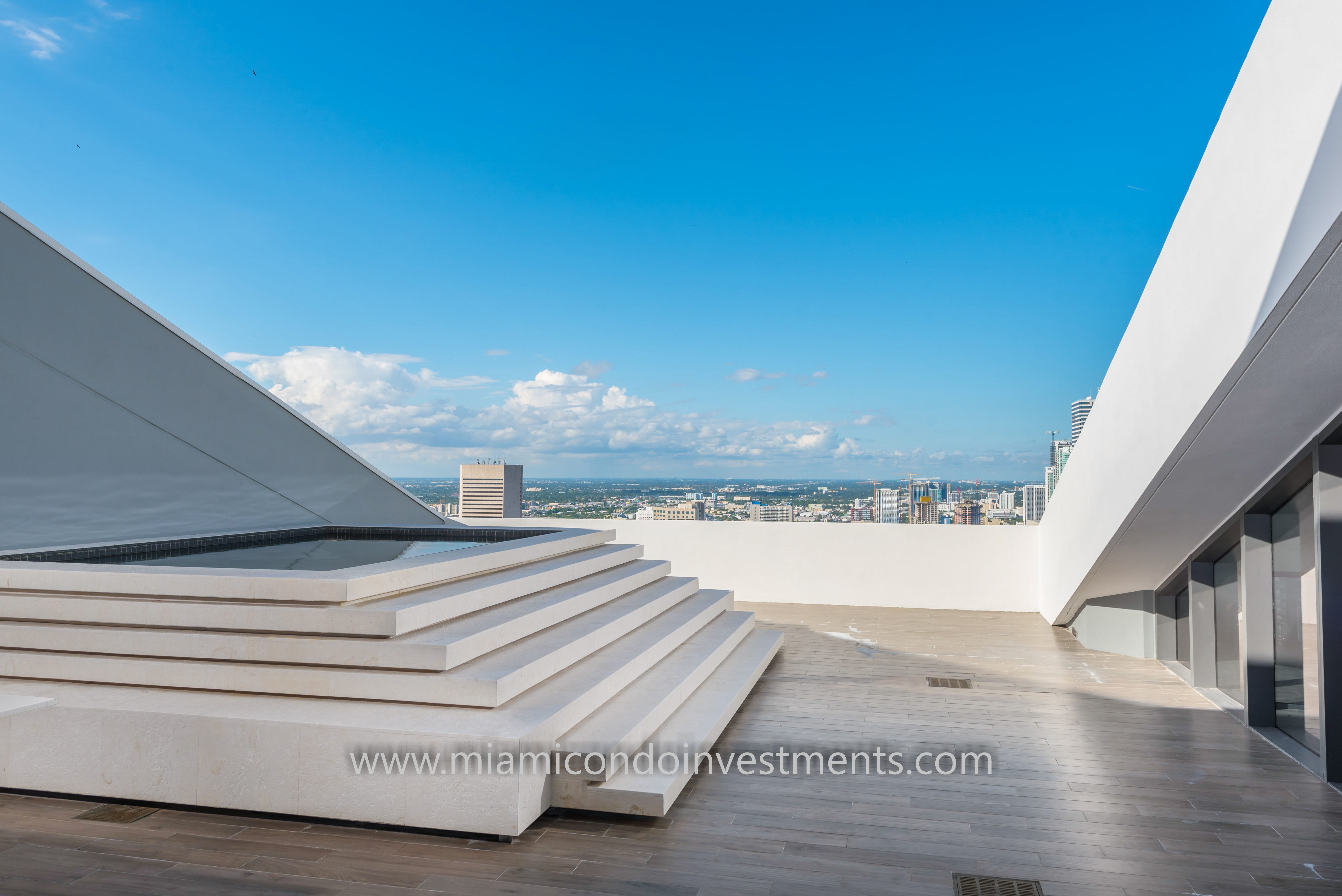 Now, let's go inside for some renderings vs real life fun!



The Kitchen/Living Room Layout and Finishes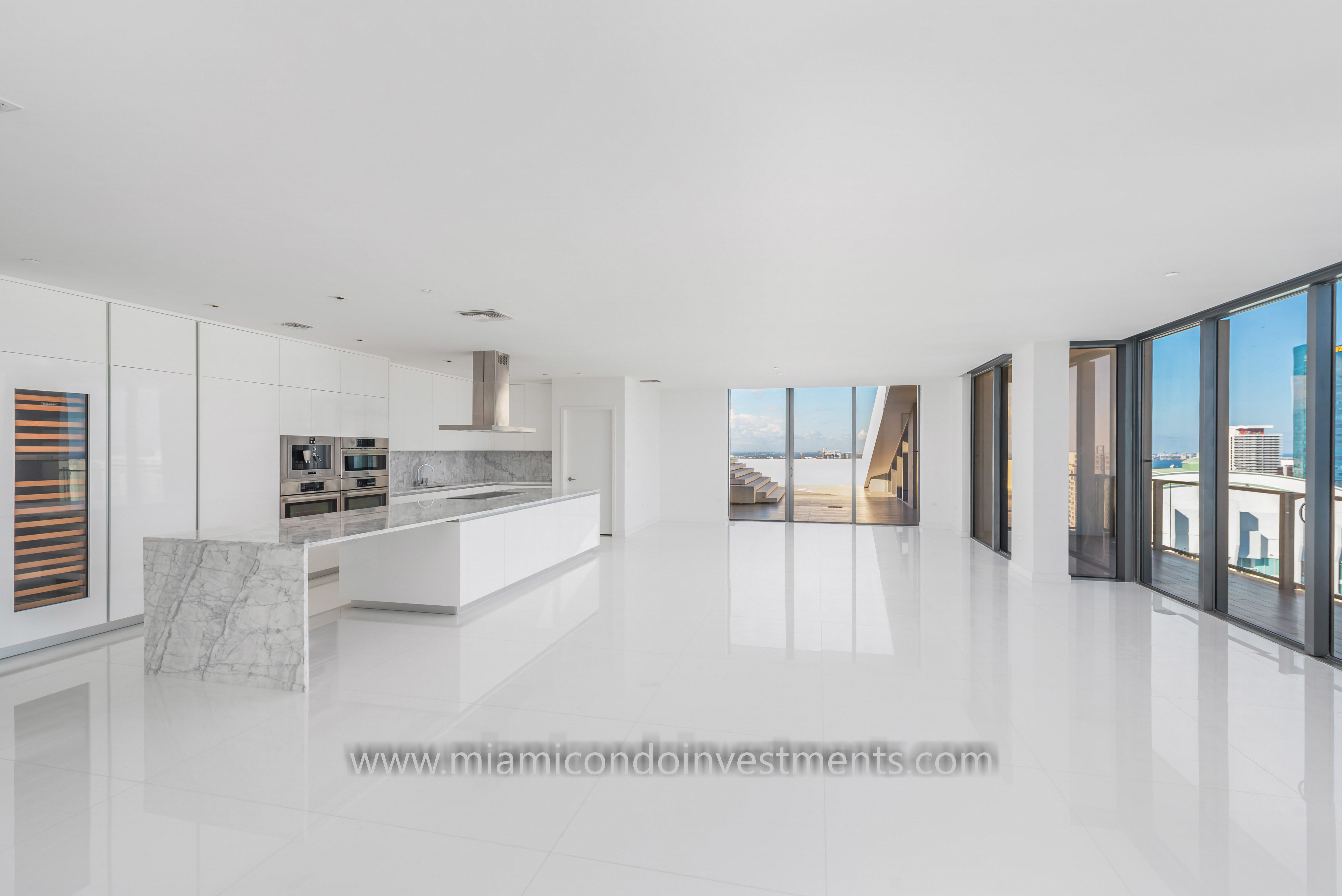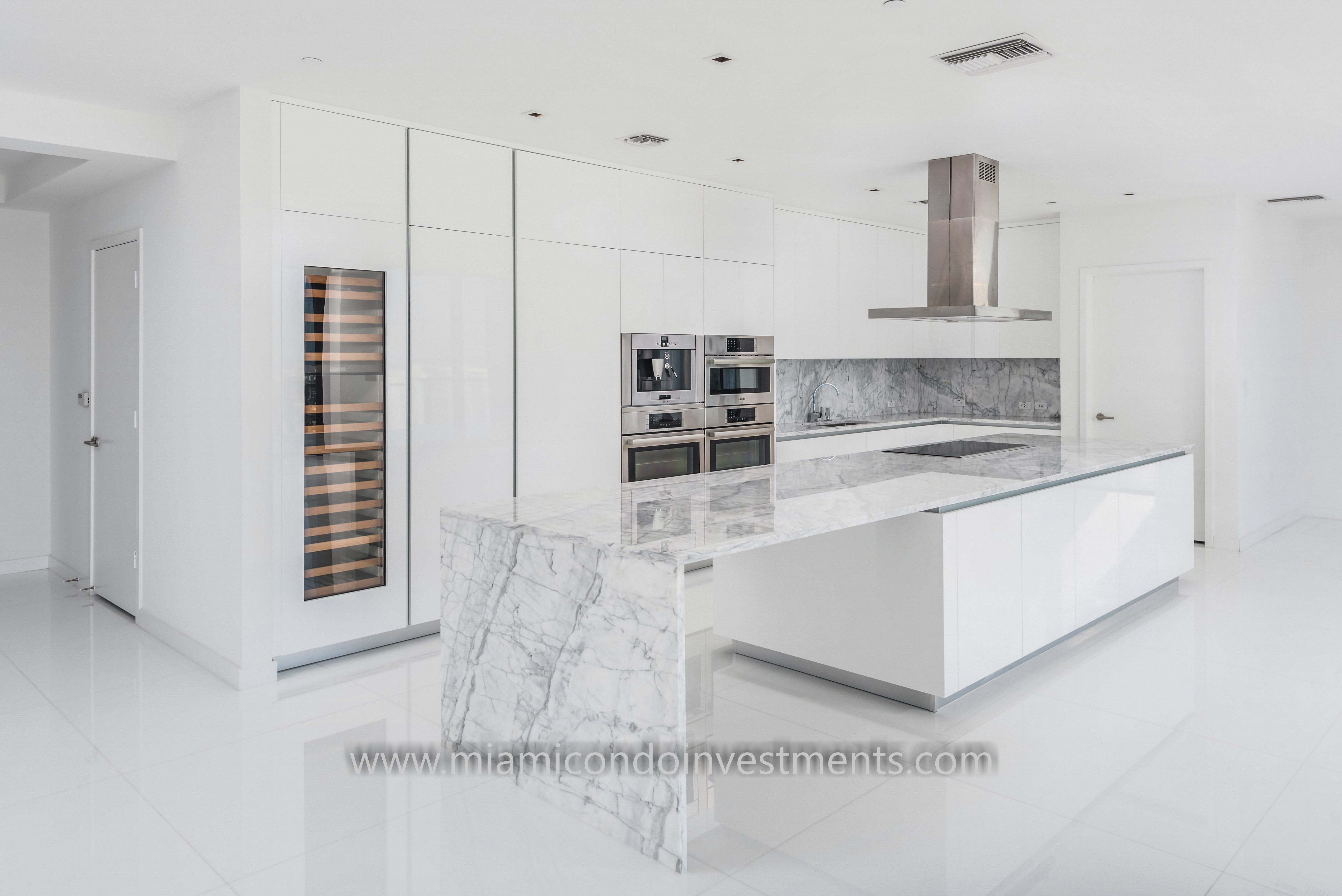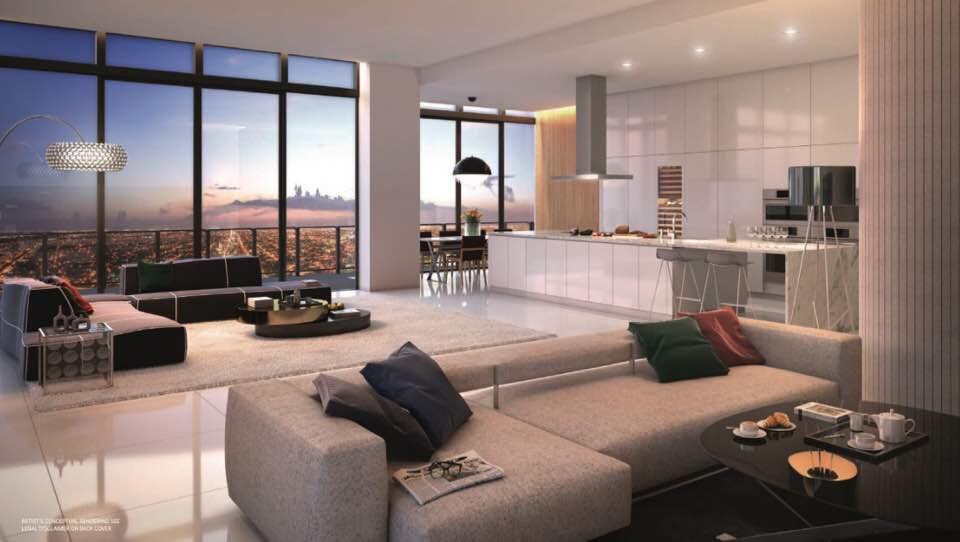 Ok, so we can see that the renderings were based on a different penthouse, but the finishes look 100% on-point, and LOOK AT THAT SPACE! I can't even begin to think of the number of different events you could host here. Of course, if you're a homebody like me, you could also just chill on a different sofa every night of the week and cook some crazy recipes in that kitchen.

I'm not sure what to say about that kitchen. If it were mine, I'd have platters of hors d'oeuvres filling that marble countertop for my friends and every kitchen gadget offered so that I could cook more. Heaven.



The Bathrooms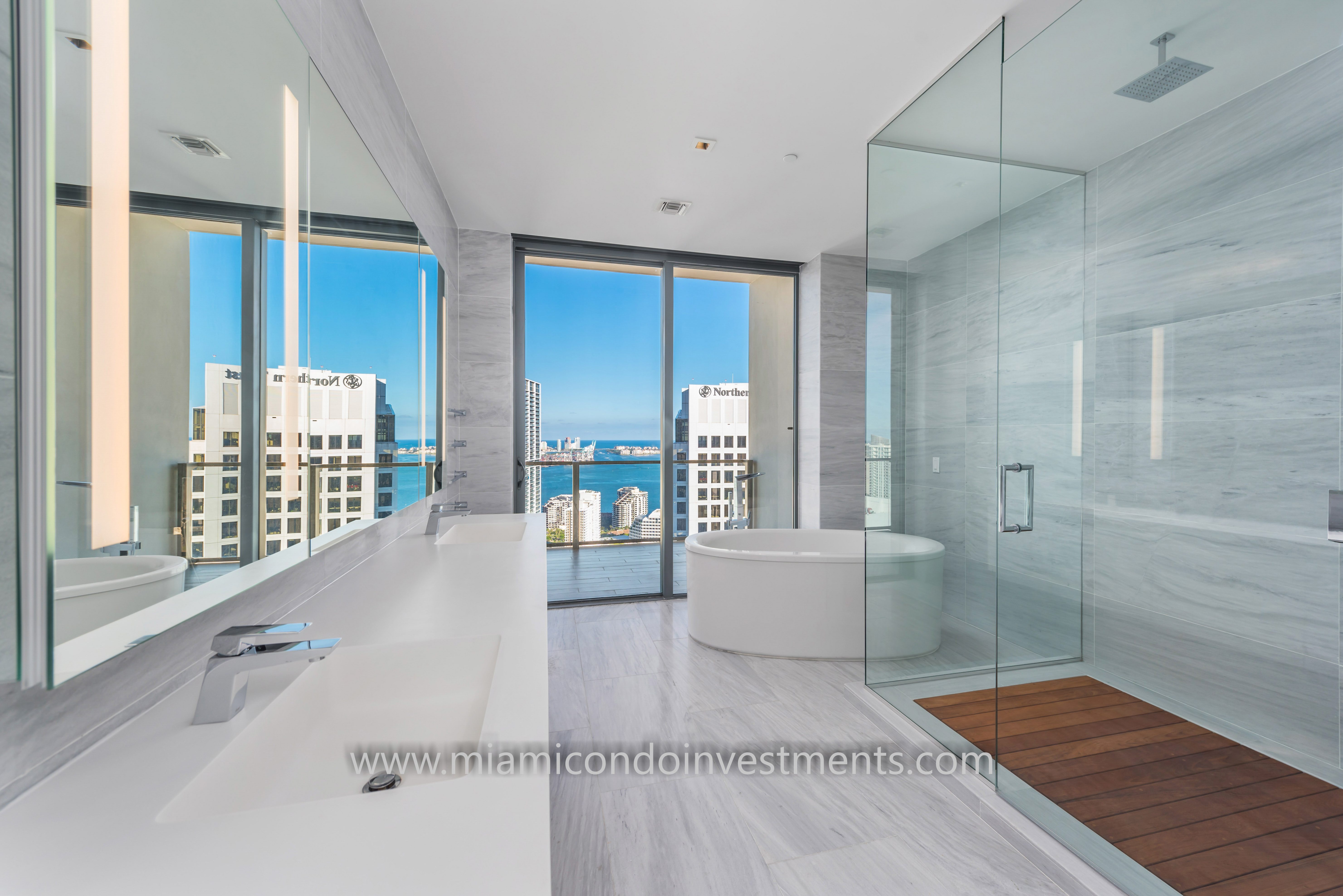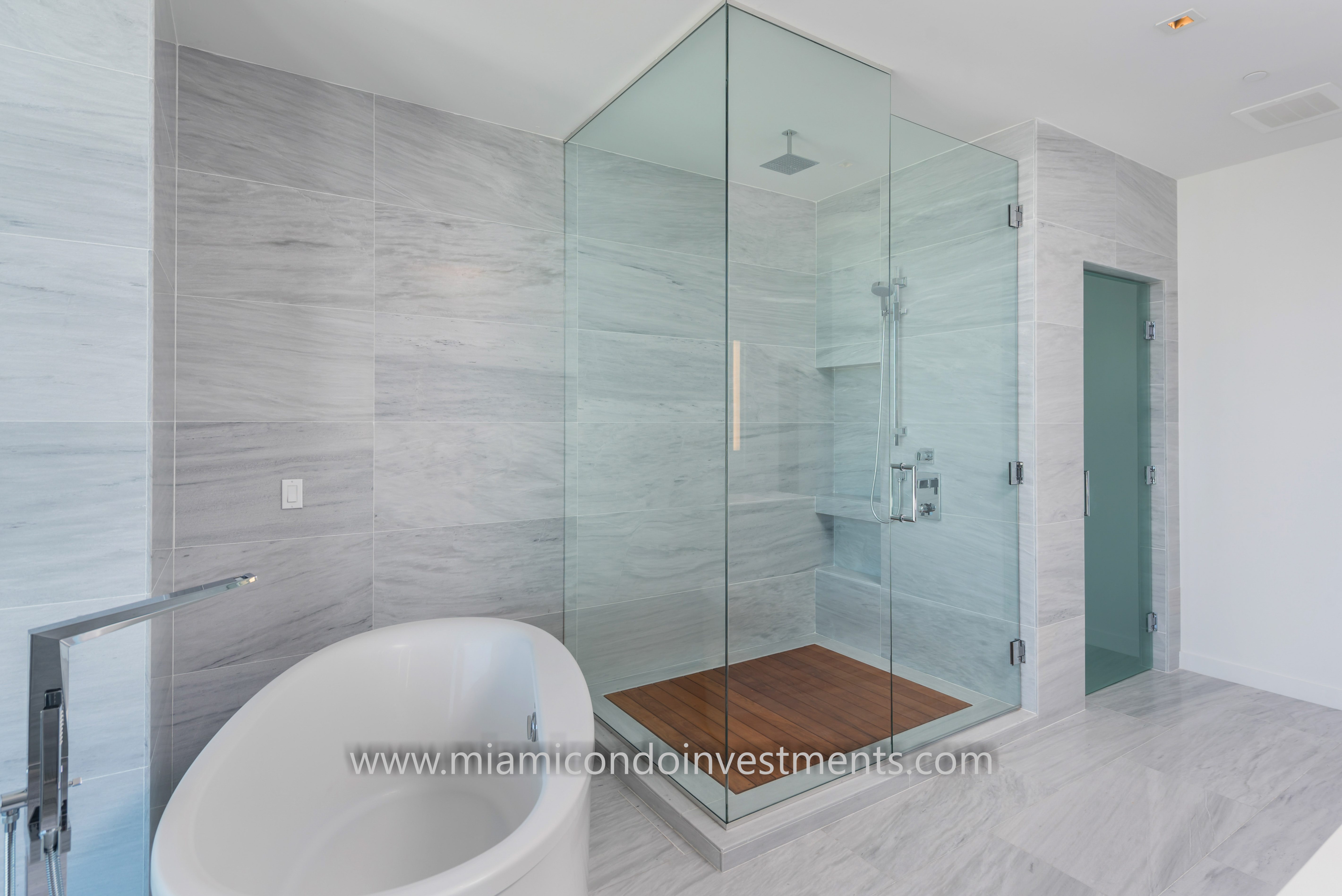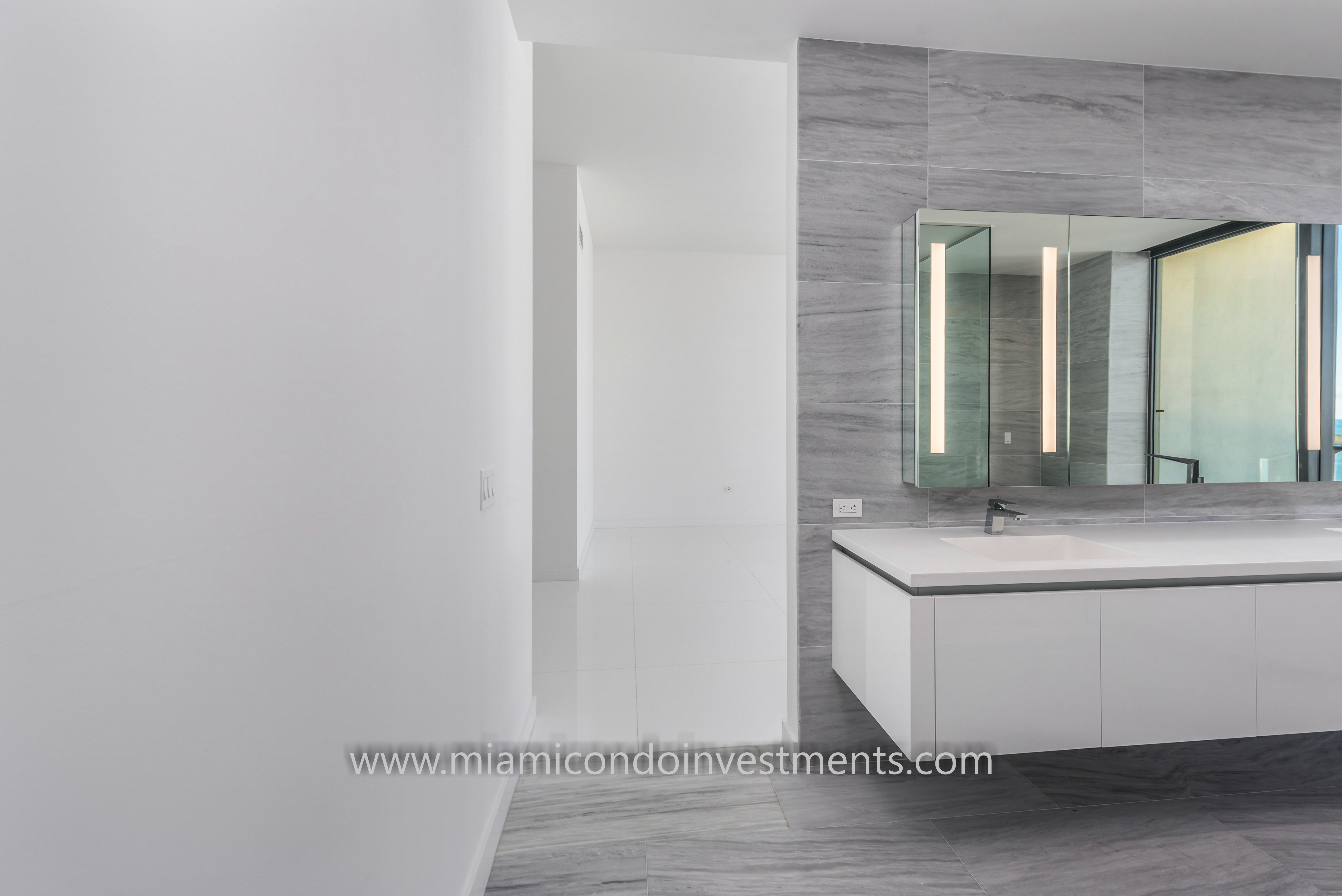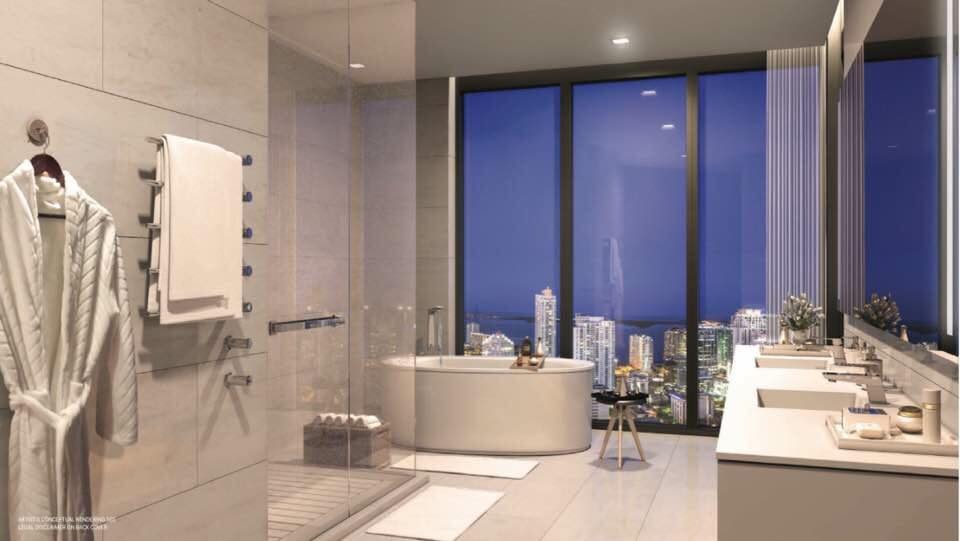 Here we are again with a rendering that was based off of another penthouse, but with on-point finishes. I love the teak shower floor. It gives a no-slip yet luxurious spa feel. Also, the backlit mirrors are typically demonstrated in sales centers and renderings, but are actually an upgrade that you don't find out about until later. Not here. Swire delivered what they demonstrated.



The Floor Plan





Swire and Arquitectonica clearly did their homework on versatility with this layout. The way the floor plan is laid out; with the master bedroom in the front and the other bedrooms in the back, separated by the family room, it's almost like there is a guest house.

I can see it already... a family gathering and the adults want to have adult conversations but the kids want to run crazy and do kid things. The kids can go to the family room and party with the nanny while the adults have wine and peace.

Or, it could be that the owner wants to give their guests an additional sense of privacy.... they have their own living room with a balcony.

Another thing I would like to point out is the amount of storage space! There are closets everywhere you turn AND a walk-in pantry! This is not something that is common in our marketplace.

Finally, I really appreciate the fact that they thought to separate the laundry room from the staff quarters. I always find it a bit oppressive to see the housekeeper's bed pushed up next to the washing machine. This is 2017, not Downton Abbey. At the same time, the service quarters is not included in the bedroom and bathroom count, as they sometimes are. In this apartment, you get 4 full bedrooms, 3 full baths PLUS a bedroom and bathroom for the nanny/housekeeper who keeps your life straight.

All-in-all, I'm giving this penthouse a rave review. See below for additional photos and let us know if you would like a tour for yourself!