Is Aston Martin Residences' Developer Insane, Reckless or Brilliant For Launching His Project Now?
October 26, 2016
by Sarah Elles Boggs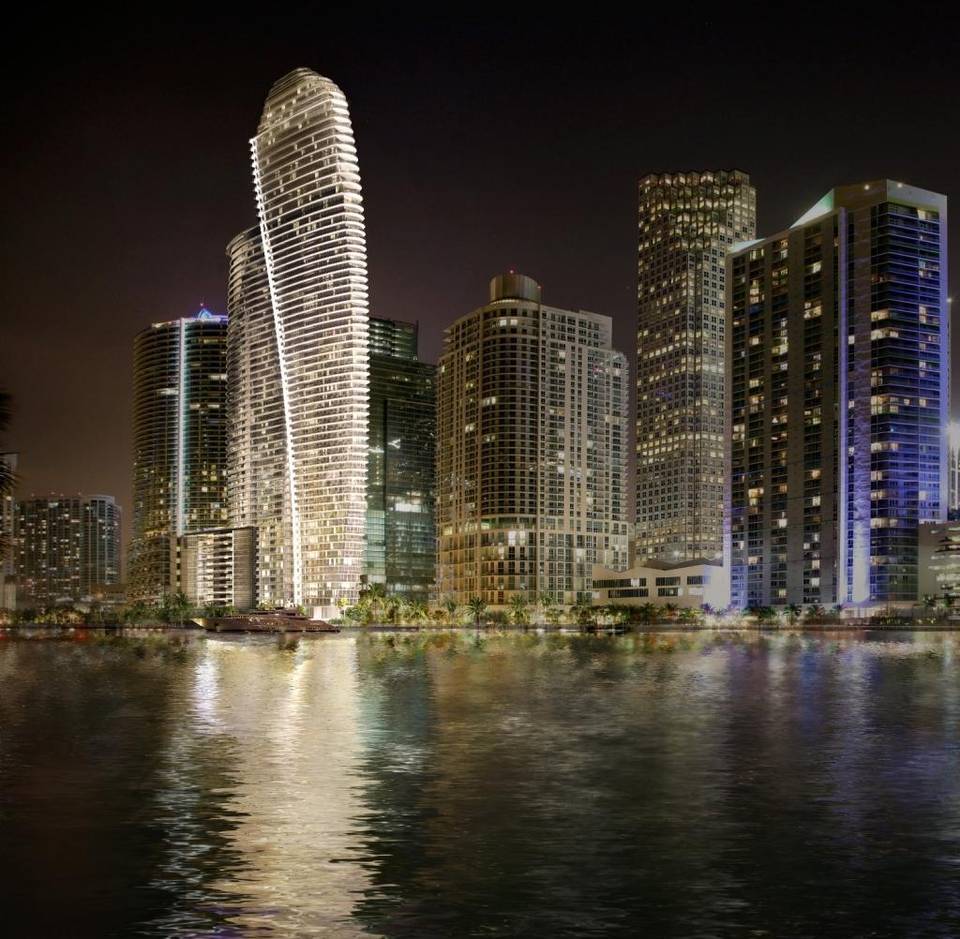 After 2 years of anticipation, waiting to hear what Argentinian supermarket czar turned Miami condo developer German Coto had planned for his new $125 million lot along the Miami River, he has answered the call. Today he released initial renderings for the Aston Martin Residences.
It will be a 66 story tower with 390 apartments averaging over $1,000 per square foot and international brand-name appeal. In a season where the news is inundated with reports of a rapidly declining real estate market and frightening oversupply, is he crazy for releasing the ultra-luxury project?
On one hand, the preconstruction projects that are already on the market are reportedly struggling to find buyers. Echo Brickell still has around 10 residences left after four years of marketing and Faena Versailles was cancelled last week due to slow sales. That project will now likely become another hotel. Projects with a lower price point are faring better, but still not selling at the rapid pace of two years ago.
Personally, I believe the project will end up a success as long as the quality and level of luxury remains par to the Aston Martin brand. The brand is extremely strong with a loyal following and the buyer for this project will be someone who is passionate about the brand and level of quality. I do not believe that potential buyers of Aston Martin residences will shop around in competing projects. They will not lose buyers to One River Point, a similarly-priced project that is nearby. These buyers will sign up for the condo because they want to have an Aston Martin condo, the same way that the buyers of Porsche Design Tower signed up because they are passionate about their Porsche and want it to be parked at their doorstep in the sky. This is also not the project for speculative investors or for rental investors. This is the project for ultra-luxe vacation homes or primary residences.
It is possible to have a successful project that is launched in a not-so-hot market. One example would be Faena House. It was launched in 2012, while we were in the throes of absorbing the oversupply from the Great Recession and was delivered as a successful project thanks to Faena's design prowess. I believe that Aston Martin Residences could be another beacon of better times just like Faena. By the time it is scheduled to be delivered in 2021, we will likely be on the upswing again in the real estate world and Aston Martin Residences could be the first successful delivery of the next cycle. (Let's not pretend that another cycle is not coming. Be real.) Mr. Coto seems confident and patient enough to see the project through, so it could happen.
On the other hand, the project could fall into the failed project graveyard with Island Gardens, Empire World Towers, and countless others that made us say a collective, "WOW!" on launch day, only to be cancelled after sales faltered. Do you think that Aston Martin Residences has what it takes to survive their sales cycle in this market climate? We would love to hear!