Quantum on the Bay – 2 Bedroom + Den/2.5 Bath
July 10, 2007
by Lucas Lechuga
I was contacted last Friday by a lady who is looking to sell her 2 bedroom + den/2.5 bath in the north tower of the development known as Quantum on the Bay. She got in at original pricing and is looking to sell her unit prior to closing. The condo unit that she has under contract is the L floor plan which, in my opinion, is the best floor plan in the entire north tower. It offers unobstructed views of Biscayne Bay and overlooks the swimming pool. It is a large corner unit with 1,460 square feet of interior space and a 237 square foot wrap-around terrace.
The Quantum on the Bay website is a bit confusing when you view the floor plans. For some reason it decided to have the building site plan point east rather than north. Biscayne Bay would be located where the word "residence" is in the picture below.
The purchase price of the unit in question was $512,000, or $351 per square foot. She is looking to sell it for $575,000, or $394 per square foot, and do a simultaneous closing on the unit. You won't find a better deal in the developer's resale program since the developer requires that all units are priced at a minimum of 16 percent above the contract holder's purchase price. In this instance, the price would need to be set at a minimum of $593,920. This is a great opportunity for someone looking to live at Quantum on the Bay after closing.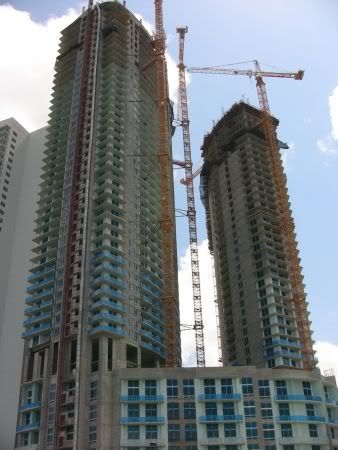 If you, or anyone you know has an interest in this condo at Quantum on the Bay, let me know and I will put you in touch with the contract holder.