3,078 Square Foot, Industrial Loft Available For Rent at Parc Lofts
May 10, 2012
by Lucas Lechuga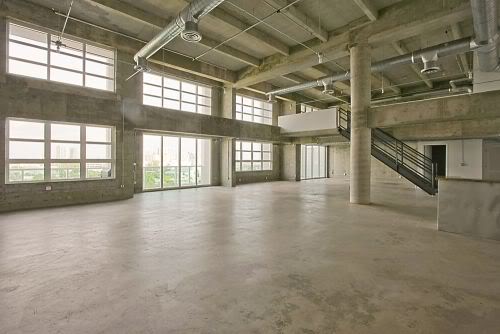 Industrial lofts are extremely rare to find in Miami.  Unlike major metropolitan cities in the North such as Chicago and New York City, Miami did not participate in the Industrial Revolution.  Miami, therefore, did not have, for the most part, the abandoned warehouses and other industrial buildings which could later be converted into large, open lofts for residential or live/work use. Miami has had to rely on developers to bring the industrial loft concept to our city and construct it from ground up.  Parc Lofts, located at 1749 NE Miami Ct in the Arts District of Miami, is one such developments.  With loft sizes that reach an amazing 5,436 square feet, Parc Lofts was built with SIZE in mind.  The development has only 72 total units, many of which are occupied by small businesses utilizing these lofts for live/work purposes.
With all that being said, unit 604 is currently available for rent at Parc Lofts.  The bi-level loft has 3,078 square feet of interior space, 20-foot ceilings, 2 full baths, washer/dryer, a balcony spanning the length of the unit and comes with 2 assigned parking spaces.  The asking price is only $3,950 per month.  I dare you to find a space of this size in Greater Downtown Miami for less than $1.28 per square foot, especially one that will accommodate live/work situations.  Parc Lofts also has a pool, hot tub and fitness center.
For those interested, please call me at 786-247-6332 or email me at lucas@miamicondoinvestments.com.