The Ritz Carlton Residences Miami Beach Are Winning Art Basel With Their #RitzRainbow
November 30, 2016
by Sarah Elles Boggs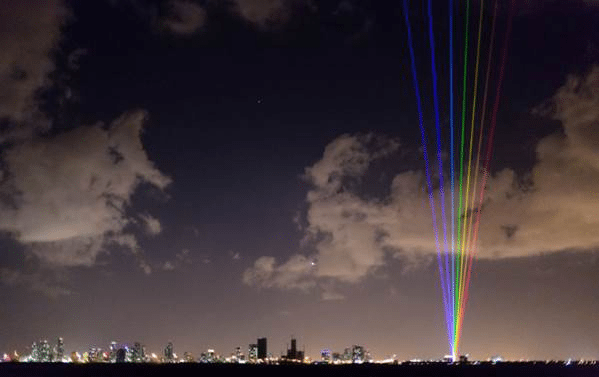 Lionheart Capital has commissioned the art display to trump all art displays of this year's Art Basel festival. They have commissioned Yvette Mattern's 'Global Rainbow' to shine over Miami during Art Basel week, visible for 25 miles around and sharing the message of positivity with the beauty of light… something we are all hungry for after a politically heated year on all fronts.
The large-scale, laser light beam installation originates from Lionheart Capital's headquarters in Miami's Design District. This gift to the city of Miami celebrates art and the human spirit. Personally, I feel it is extremely called-for at this moment and a welcome beacon for peace. Private boat tours are departing via Von Dutch boats on the hour to view the installation as well as the construction progress of The Ritz Carlton Residences Miami Beach, although you don't need to be on a Von Dutch boat in the bay to enjoy it.
To celebrate, The Ritz-Carlton Residences, Miami Beach and Lionheart Capital have teamed up to host a special giveaway. To be entered for a chance to win, share your original photo of The Global Rainbow to Instagram using the hashtag #RitzRainbow. On Monday, December 5th, one photo using the hashtag #RitzRainbow will be chosen as the winner of the grand prize. The winner will be contacted via direct message shortly thereafter with prize redemption details. No word yet on what that grand prize is, but we expect it will be quite nice… as anything with the Ritz Carlton name is.
Located in one of the most desirable residential neighborhoods in Mid-Beach, The Ritz-Carlton Residences consists of 111 condominium residences and a limited collection of 15 standalone Villa Residences. The tropical modern luxury development, which is over 60 percent sold, is priced from $2 million to more than $40 million and slated for a timely completion Q2 of 2017.