An Aerial Look at All Aboard Florida/ Brightline Train Station Construction
August 8, 2016
by Sean McCaughan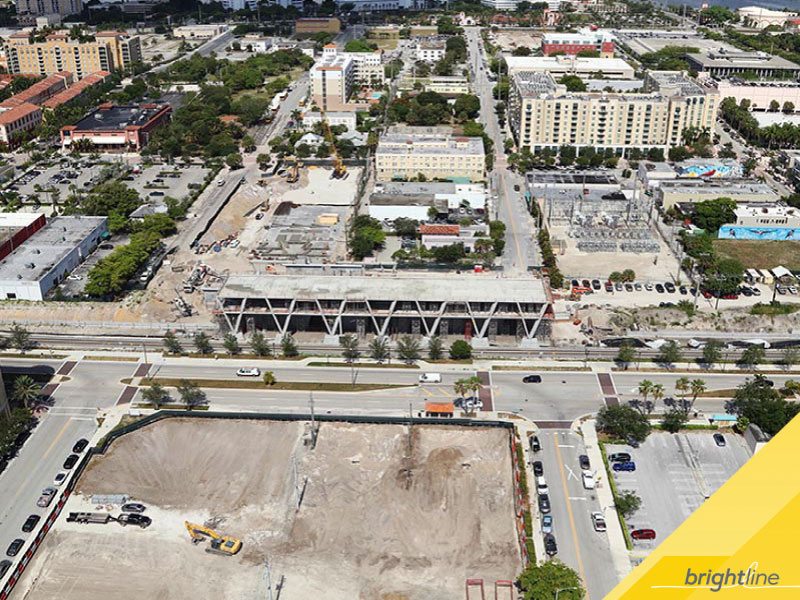 Construction of the Miami, Fort Lauderdale, and West Palm Beach Brightline Stations is on schedule for the beginning of passenger train service next month, according to an update last week at the Brightline construction blog. The stations are also coming along pretty nicely when seen from the air. While construction for both the Fort Lauderdale and West Palm Beach stations is coming along nicely, construction at MiamiCentral, the Miami terminal station and by far the largest of the three (the fourth station, connecting to Orlando International Airport, is coming in Phase II) is approaching the level of the elevated train tracks. Check out the video, below.
In Downtown Miami, construction on the massive 11-acre MiamiCentral is progressing. Installation of the Florida I Beams (FIB's) continuing, things are moving smoothly at the MiamiCentral Brightline station. Once the FIB's are installed, work will begin on the elevated train tracks. The tracks will be installed on a slab, which will be cast on top of the FIB's. In addition, the process of excavating for all of the rail infrastructure foundations is now complete and about 90 percent of the columns have been cast.

Just on the other side of the Miami-Dade County Overtown Transit Village, 3 MiamiCentral is also rising. In just a couple of months, the building has reached its tenth floor! Shoring for the fourth level parking garage has been completed and the installation of glass panels on the third level, below the office tower, is underway. Going forward, construction crews at 3 MiamiCentral will continue with rough plumbing, electrical work and HVAC ductwork installation, in addition to casting sections of the ninth and tenth floors.