900 Biscayne Bay – Sneak Peak at a Luxury Miami Preconstruction Condo Building – Pictures & Video
August 20, 2007
by Lucas Lechuga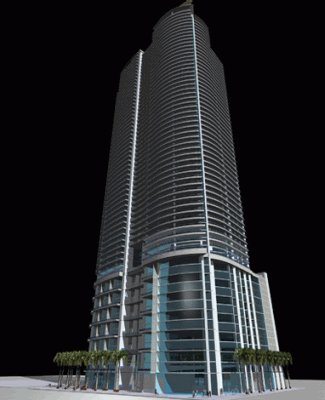 Last week I was afforded the opportunity to walk through an almost finished townhouse unit at 900 Biscayne Bay. It was priced, from the developer, at around $945,000 (I don't remember the exact figure but it is very close, if not exact). The pictures and the short video clip that I shot of the unit are found below.
First, let me provide a little background.
Last weekend an out-of-state couple contacted me to find them a luxury second-home condo. They wanted a great deal but didn't want to skimp on quality or views. They wanted to buy into a luxury condo building that was either brand new or one that was relatively new or recently remodeled that offered luxury finishes, amenities and views.
In one short day, most of which was scheduled on a 1-2 hour notice, I was able to show them a unit at Jade Brickell, Emerald at Brickell, Imperial at Brickell and The Palace. I was also able to get them a guided tour of Ten Museum Park and Latitude on the River. We also visited the 900 Biscayne Bay sales office just before closing hours. They had a strong interest in a townhouse unit at 900 Biscayne Bay and wanted a guided tour of the actual unit. One was arranged for the following afternoon.
To say the least, they were offered a thorough look at the Miami condo real estate market on their first day looking at Miami condos. They got to see more luxury condo buildings than most people living in Miami have seen in their lives. They were due to leave back home early Wednesday morning. The aforementioned showings all occurred last Monday from 12:30pm to 6:30pm.
We picked everything back up early Tuesday morning with a visit to Carbonell in Brickell Key. They loved everything about the building and the unit that we saw, but the water views off the 2 bedroom were good but not fantastic.
I then took them to Marina Blue where they fell in love with the unobstructed water views and great deals that could be obtained there.
They still had an appetite, however, to take the tour of the townhouse unit that they were interested in at 900 Biscayne Bay. Our next stop was the 900 Biscayne Bay sales office so we could don our hard hats and goggles and trek to the unit.
Fortunately, I brought along my trusty digital camcorder along to take pictures and shoot as much video as I could in our short stay at the 900 Biscayne Bay townhouse that we visited. The following pictures and video clip are from a townhouse unit on the 7th and 8th floors at 900 Biscayne Bay.
Again, this is a townhouse unit at 900 Biscayne Bay. Not all units at 900 Biscayne Bay will offer such bi-level floor plans and high ceilings. In fact, most of them do not.
The townhouse that we saw was a 2 bedroom/2den/3 bath unit. I felt that the bedrooms were pretty small. They should have removed one of the dens and added that space to the master bedroom. The finishes, however, were just as impressive as they were in the sales center. 900 Biscayne Bay should be completed towards the beginning of 2008.