Great Artwork in Miami Condo Buildings
June 26, 2008
by Lucas Lechuga
Walking through the common areas of some of the new condo buildings in Miami feels almost like walking through an art gallery. It's great to see that some of these developers have decided to add an artistic touch to their buildings. You'll find a lot of artwork in buildings such as Quantum on the Bay, 900 Biscayne Bay and 500 Brickell. Below I'll share with you a few pieces that I really like. I had the chance to take a picture of these yesterday afternoon.
The one above is my favorite. It looks so much better in person though. This piece can be found at 900 Biscayne Bay on the 15th floor between the club room and spa. The building is full of art and the developer has chosen the pieces from local art galleries. I've visited 900 Biscayne Bay over the previous 5 days in a row showing units to various clients. The more I visit this building the more I LOVE it. Of all the new condo buildings completed within the past 2 years, this is hands down the BEST. The quality of the building and units is impeccable. The views are fabulous as well. When I show clients units in various buildings, I usually leave 900 Biscayne Bay last on the agenda. It's on a completely different level.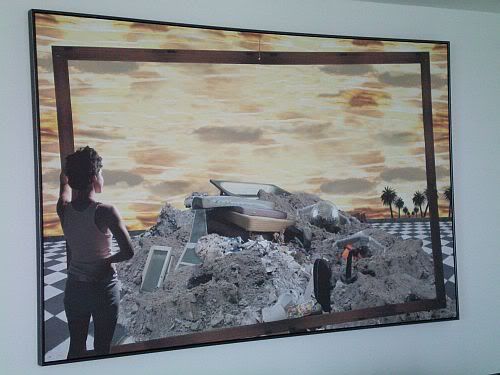 I found the piece above to be quite interesting as well. It can be found on the rooftop lounge room at 500 Brickell. The building has lots of artwork throughout the common areas. You'll definitely find more artwork at 500 Brickell than other Related Group condo developments in Miami. I wonder if Icon Brickell will have as much eye candy when it is completed.
I heard that there's going to be an art show at Quantum on the Bay next week. I saw various art pieces throughout the lobby on Monday or Tuesday that I found appealing. Does anyone know the date and time that this art exhibit will occur?