New Condo Construction Closing Rates
November 10, 2007
by Lucas Lechuga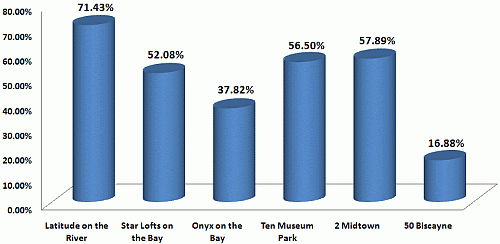 The chart above will show you the percentage of total units that each development has closed since closings began. They are in no particular order.

Below, you will find the date that the first closing in each development occurred:

Latitude on the River - July 27, 2007

Star Lofts on the Bay - June 20, 2007

Onyx on the Bay - July 31, 2007

Ten Museum Park - June 14, 2007

Midtown 2 - April 30, 2007

50 Biscayne - October 1, 2007

Star Lofts on the Bay and Onyx on the Bay haven't had any new closings in quite some time. I think they are pretty much done. Midtown 2 has maybe one or two new closings every couple of weeks. Might as well put a fork in them as well.

Latitude on the River has done comparatively well but it seems as if closings have plateaued. I think it will be difficult for them to reach the 80 percent mark within the next couple of months unless a bulk buyer steps in to buy the defaulted condos.

Ten Museum Park has been struggling but I know that an individual has stepped in to buy over ten units there within the past couple of weeks and is still looking to buy more. Only about half of these closings have been recorded. Rumor has it that a separate bulk buyer has a strong interest in buying the remaining units that come back to the developer of Ten Museum Park after all closings have been completed. I think by January we'll see the percentage of closings at Ten Museum Park top 90 percent.

50 Biscayne began closings on October 1, 2007 and is doing quite well. Most closings get recorded within the first week but there can be a two to three week delay so some condos that have closed within the past two weeks may not be reflected in the numbers above. It will be interesting to see how high the percentage of closings at 50 Biscayne rises by the end of the year.