Dog Park Coming Soon to Margaret Pace Park
August 18, 2015
by Lucas Lechuga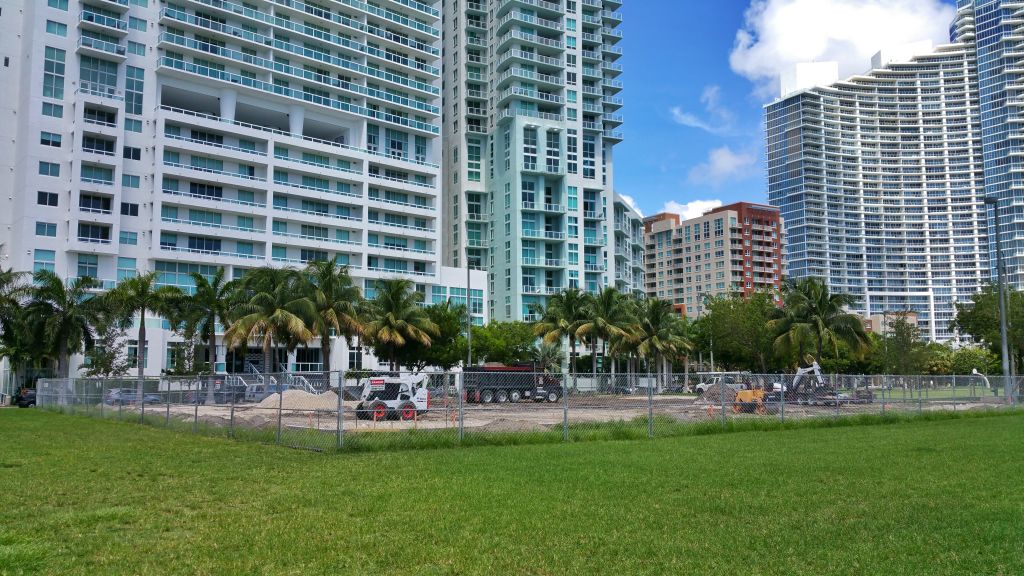 Every dog has its day…a day at the dog park that is! At least that could be the case for your furry, four-legged friends once the new dog park opens in Edgewater at Margaret Pace Park.
This morning, while out showing property in the neighborhood, I spotted heavy machinery clearing the land to a fenced-in portion of the park. So, with camera phone in tow, I ran over to investigate. To my delight, I discovered a sign hanging, which read: Pardon our mess! A new dog park for your furry friends is coming soon!  The sign also included the logo for Easy Grass – a company which produces safe, artificial grass – leading me to assume that Easy Grass will be laid within the designated dog park area.
A dog park in Greater Downtown Miami is something that has been long overdue for residents and their dogs. No more trekking it to Coconut Grove or South Beach in order to allow your dogs ample space to run and play with their friends without fear of being ticketed by the po-po.
The designated area will be located directly parallel to 1800 Club and catty-corner from Quantum on the Bay. Ironically, both of those building are not pet-friendly for tenants. No word yet on when the designated dog area is scheduled to open, but my guess would be within the next 1-2 weeks.