Almost 40% of Downtown Miami Residents Have Pets – Strategies for Investors and Tenants
September 27, 2016
by Sarah Elles Boggs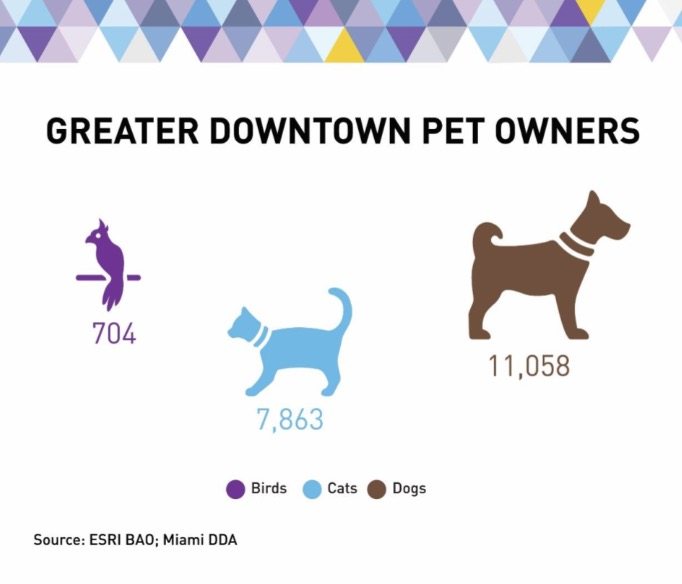 The Downtown Miami DDA (Downtown Development Authority) released its updated demographics study today, and they found that 39% of Downtown Miami households include a pet. This is interesting because so many of the developments impose strict pet policies upon their residents. Some only allow certain sizes of pets, some only cats, some only allow pets for unit owners and some say no pets at all.
This is always a touchy subject when we are working with a client who has a pet. There is so much misinformation out there regarding which buildings do and do not welcome pets. If a resident gets caught with an unauthorized pet, they are forced with the difficult choice of paying a lease cancellation fee (which is typically the value of 2 months' rent), or re-homing their beloved pet. Unfortunately, not all agents verify the pet policies before entering into a contract, which wastes time and gets the client all excited about an apartment that they cannot have. No bueno.
I even once had a client who cheated on me with another agent that had told them they could have a large pet in a pet-restricted building. That is completely irresponsible and self-serving of that agent. Thank goodness, the clients realized what would happen if they went forward with that deal. The agent would have been paid and then they would have either had to break their lease or part with their dog. That is a horrible choice to have to make when most people consider their pets as members of the family.
In order to have an authorized pet in the building, many associations require an additional registration and application. The pet's weight is verified (many times with a report from the veterinarian), their vaccinations are verified and some buildings even take it a step further. Infinity at Brickell requires a DNA sample to be placed on file and in the event that messes are found in the lobby, the mess is sent in for a DNA match. The resident that pops up after the DNA test is issued a fine. I call it Maury Povich enforcement… but it works. If people know they're going to get busted breaking the rules, they'll be less likely to do so. This way, the building can continue to allow large pets for everyone.
Over recent years, a popular workaround to the 'No Pets' buildings has become all the rage. There are websites where you can claim that you need a therapy dog. They'll issue you a certificate for a fee and, viola! Your dog can go with you everywhere and nobody can say anything… except the condo associations have started to get wise of this ruse. The Jade at Brickell verifies these Therapy Dog certificates through an attorney. It takes an extra few days during the application process and you don't get your application fees back if you get caught with a phony form. I don't recommend the fake therapy dog stunt.
If you are curious of whether a particular building accepts pets, just have a look at the building page on our website. We have verified all of the buildings' policies and list them in the FAQ section of the website. Every now and again, a building will change their policy in between when we last called to verify, but we update it frequently. Our agents also keep themselves updated of the pet policies and fees for the buildings in the area. We're all about efficiency and not wasting your time or energy…
So what about investors?
With the rental market changing, it is important to have apartments that appeal to as many people as possible. Purchasing an investment condo in a pet-restricted building automatically crosses out almost 40% of the prospective tenants that could be interested in moving in. Some of my favorite pet-friendly buildings are MarinaBlue and 900 Biscayne Bay in Park West, Infinity at Brickell in Brickell, the Midtown developments in Midtown and One Miami in Downtown.
For investors who are concerned with having animals in your property without knowing the behavior or cleanliness of the pets, it is completely customary to charge a pet deposit for the unit. In many cases, the building has a separate pet deposit or fee, but I suggest a refundable deposit for the unit itself. The amount can vary depending upon the pet. Puppies would require a bit of a larger deposit since they tend to chew and have accidents. You could also lower the deposits in the event that a tenant was able to submit a diploma from obedience school or behavior training.
Whether you are an investor, or if you are buying/renting a home for yourself, if there is a specific building that you are curious about, don't hesitate to drop us a line and inquire. We're happy to help.