Investing In Condos For AirBnb Income Is A Risky Idea
February 15, 2017
by Sarah Elles Boggs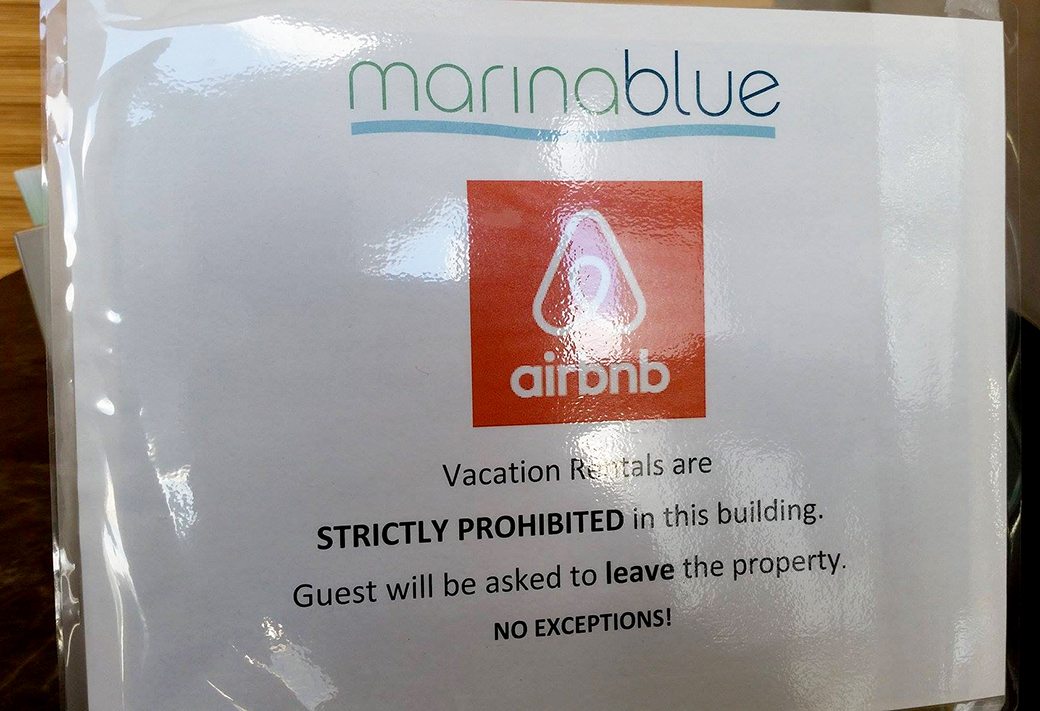 Despite Miami Beach's crackdown on AirBnb properties, we receive regular calls from hopeful investors who want to buy properties in order to lease them out on the short term rental website. It is important to understand the risks involved in breaking the rules with hopes of high returns.
Miami Beach Crackdown
Because AirBnb rentals do not contribute to the hotel taxes that largely fund Miami Beach and they take away from the bookings at hotels, they are strictly outlawed. The government is in the midst of a strict crackdown of the policy, levying $20,000 fines on investors who break the rules. That's $20,000 PER OFFENSE. Unless you're leasing a $25 million waterfront mansion for $8,000/night to Kylie Jenner, the risk is just not worth the reward.
It was also announced yesterday on The New Times that Miami is considering a similar crackdown.
Condo Regulations
Many condo associations prohibit rentals of less than 30 days, or even less than 6 months. Some older buildings require owners to wait 1 to 2 years before leasing their condos. It is important to be clear about the rental policies of buildings prior to investing, because your bottom line will be affected if the policies don't line up with your investment goals.
But what happens if you ignore the condo association rules and continue to lease your property on AirBnb? According to our contact at the management office at Infinity at Brickell, where the minimum lease term is 6 months, fines of $100 per infraction are issued to the owners of the apartments that get caught. He said that it is also not uncommon for visitors to be given violations for failure to obey conduct and noise rules in addition to giving themselves up for being nightly renters by treating the front desk like a front desk at a hotel. Eventually, the fines add up to make the investment not profitable enough to continue.
Some other buildings are taking enforcement a step further. Mint at Riverfront requires each applicant to sign an acknowledgment of the rules pertaining to short term rentals. MarinaBlue has posted a sign at the front desk alerting visitors that short term rentals are prohibited and violators will be removed from the premises.
With condo buildings, the issue is about security rather than the hotel tax. Each resident in a condo building must undergo a background check to ensure the safety of all residents. If one condo owner (or tenant) sublets their unit to vacationers, this security measure is compromised.
Renting A Condo To Use As AirBnb Rental Investment
The investors we've seen are not only buyers who purchase with the intention to run a short term rental business. We have also seen entrepreneurial tenants inquiring about a strategy of leasing a furnished condo and then subletting it online. This is not only a violation of the City (if the property is in Miami Beach) and condo association policies, but it is a violation of the lease terms. Most Florida leases do not allow subletting, putting the tenant at risk of eviction and penalties.
Landlords who keep yearly tenants have already picked up on this strategy and have begun to screen potential tenants for risk of violation of the subletting section of the lease, but I anticipate more buildings will follow suit with Mint and MarinaBlue over the coming months even if the City of Miami fails to pass their ordinance outlawing short term rentals.
******Update: One Miami East and West have both jumped on the bandwagon with the following stern message to residents, sent today.
February 16, 2017


Dear One Miami Residents,

As the Associations have previously notified you, short term rentals are not permitted in One Miami for periods of less than thirty (30) days.  Despite such prior notifications, we have received numerous complaints that certain owners and tenants are in fact renting their units for short term stays in direct violation of the Associations' governing documents, whether through websites like Airbnb or on their own.  The Associations' have sent (and will continue to send) violation letters to such owners and tenants who are committing these short-term rental violations instructing them to cease and desist from such actions immediately.  The next step will likely be for the Associations to file lawsuit(s) against such owner(s) or tenant(s) without further notice.  The Associations also reserve the right to deny access to any such unauthorized parties who may be renting from owners on a short-term basis.

We again remind all Members that the Associations' take such issue very seriously.  Therefore, if you are engaging in such improper conduct, please cease and desist from the same immediately.  Additionally, if you are aware of a short-term rental violation that is occurring in the building, please report the same to management.  Thank you for your assistance.

Sincerely,

Board of Directors of:
One Miami East Condominium Association, Inc.
One Miami West Condominium Association, Inc.
One Miami Master Association, Inc.