1010 Brickell Is Almost Complete
March 17, 2017
by Sarah Elles Boggs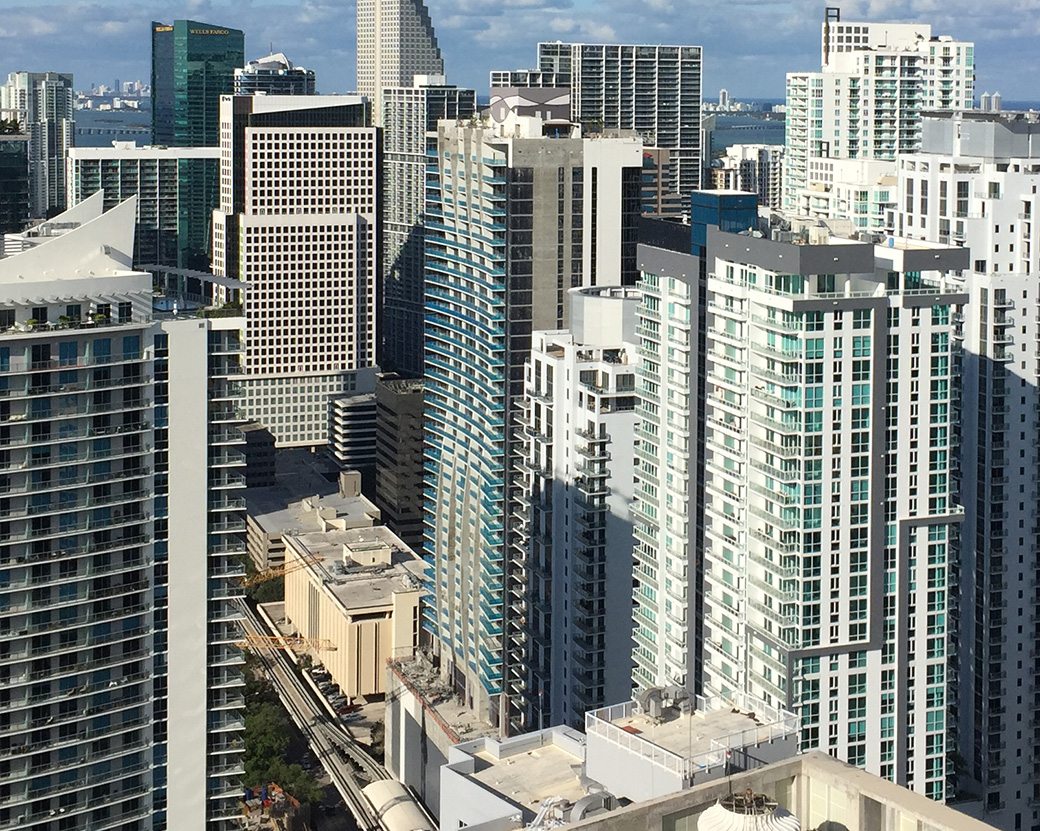 Brickell is very close to having a new newest building. 1010 Brickell is on track for completion in May. The crane and construction hoist have been removed, the painters are hard at work and the 50th floor pool landscaping is already installed.
Despite being a few months behind schedule (completion had been projected for December 2016), the building was a big success from a sales standpoint. The 387 units sold for an average of $650/square foot. We assume that all 387 have sold, because our requests for their close-out inventory have not been responded to.
The building was geared toward healthy living for active families, given the central location and span of amenities. The 11th and 12th floors feature:
Indoor heated swimming pool with retractable glass walls for flexible access to the outdoors in any weather
Impact-absorbing outdoor running track providing unparalleled views of the Miami skyline

Tanning

Sundeck
Mini Golf
Kids Indoor/Outdoor playground areas
Children's outdoor mini water park with cooling water spray
Active indoor game room including games such as: bowling lanes, foosball, air hockey, table tennis, and arcade games
Vending machines (ice cream, snacks, beverages etc)
Modern Kids Recreation Zone – a two-story exercise and entertainment area designed to keep the little ones active and engaged in healthy pursuits like climbing, crawling, and other activities
The Court – an area with half-court basketball, racquetball, and volleyball
Indoor Mini Soccer
Indoor

Tennis

Court
Parent/child wristband system to allow the children to freely enjoy the common areas.
There is already one resale on the market, a 1,554 square foot 2 bedroom plus den with 3 full baths. It has terrace access from both bedrooms and the living room and a southwestern view. It is priced at just under $1 million, which works out to $643/square foot (less than the average pre-construction price!)
We haven't seen any rentals offered as of yet, but do expect them to arrive as May draws closer. As a matter of fact, I expect this to turn out to be a very popular building for young families, who would appreciate the active amenities.
While 1010 Brickell is nearing completion, it won't be the next newest building. Brickell Heights and Brickell Heights 02 are both on track to open in April, and will hold the "Newest in Brickell" title for just a few weeks before 1010 takes it. The next buildings to open will be SLS Lux and ECHO Brickell later in the year (or early 2018 since construction timelines often get delayed toward the end).