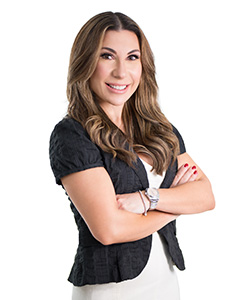 Nina Millman
Nina Millman is proudly a part of the top team in Miami condo sales and leasing with Miami Condo Investments sine 2018. She brings a wealth of experience from her work in both Florida and Nevada with everything from celebrity clients to first time home buyers. She is a real estate professional that is passionate about properties and their ability to change people's lives for the better. "Your home is your castle and gives you strength," Nina explains. "It is a source of pride and comfort. There is so much to be gained in terms of perspectives on life and the people you meet depending on which neighborhood or building a person chooses. Being a trusted guide for people to help them make the right choice is a source of great personal and professional pride for me."
Nina is also driven by excellence on an international level since she serves clients from all over the world and because she herself is Greek, Canadian, and Australian, which gives her a special appreciation for the need to work beyond borders. It is with that mindset that Nina has been able to accomplish great things in real estate – including a record sale for a home in Miami Shores in 2015 that was the highest sale price at the time for a home with no water access or swimming pool. She also arranged leases of a Downtown Miami penthouse to a player with the NFL Dallas Cowboys and later to an NBL player with the Miami Marlins.
Born and raised in Australia, in a small town in the outback called Coober Pedy, Nina went to high school and university in Adelaide. Her background there as an Attorney created a firm foundation for her career in real estate. The standard of care with which she executes her duties to her clients is always of the highest level and they often become her closest lifelong friends.
Deeply rooted in the community Nina is very actively involved with Vous Church in Wynwood and is busy enjoying life with her daughter Madison and their teacup Chihuahua Carmen.
She is fluent in English and Greek and is licensed in Florida and Nevada.1