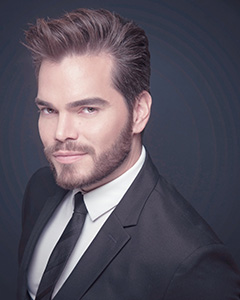 Jose Manuel Santovena
"Treat everyone how you want to be treated"
A simple motto proves to be Jose Manuel's ultimate weapon as a licensed realtor in Miami.
With over a decade of experience in sales and management, a bachelor's degree in Information
Science, and a passion for the profession, he brings in a diverse skill set to the real estate
world. These characteristics also allow him to win over clients everywhere he goes.
Interestingly, becoming a real estate advisor wasn't in his cards when he graduated from the Central
University of Venezuela. Back then, all he knew was that his effective communication skills,
attention to detail and the ability to connect with people would work well in a sales
environment.
For 15 years, he thought that this was his calling and he kept on doing what he did best―make
customers happy and contribute to the bottom line.
However, when the Venezuelan born salesman moved to Florida, the real estate bug bit him. He realized that his sales strategies, enthusiasm, and eagerness to help others could easily transfer into this field. So he decided to take a leap of faith and switch career.
In 2016, Jose received the 'KW Miami Rising Star 2016' award, a year after he joined the Keller Williams International Realty. A year later, he secured a spot in the Top Producers Wall and became one of the youngest agents to make it.
He received these prestigious accreditations after showcasing great potential in dealing with international and domestic real estate clients in Miami. His sales record revealed that he has a knack of satisfying every buyer, seller, and investor that walked into his office.
Not only does he listen to his client's needs, but he makes an effort to introduce real estate strategies that align with their interests. He also keeps an eye on emerging real estate marketing trends, providing them with practical and valuable advice. That's why clients count on him to take them through the real estate process with ease.
Moreover, his dedication to this line of work and devotion to clients makes it easier for him to build long-lasting relationships with everyone he meets. That's probably why the majority of his portfolio is acquired through referrals and recurring clients.
At present, Jose embarks on a new real estate journey with one of the leading real estate teams in the city, the MCI Team led by the Mega Agent Lucas Lechuga under the umbrella of Luxe Living Realty by Dora Puig, he believes that this platform is an excellent opportunity for him to connect with buyers and sellers alike and to provide an even higher quality of service.
On the whole, his real estate journey has made him a result-oriented realtor. So it doesn't matter if you're new in the area or an experienced real estate investor. With Jose's professional input and innovative strategies, you'll achieve your real estate goals quickly and efficiently.