Silver Bluffs Townhouses – $515,000
December 4, 2007
by Lucas Lechuga
The developer of 2 townhouse units near Coconut Grove in the subdivision of Silver Bluffs contacted me about a month ago. Both units were almost finished being built and he wanted to know if I could help him and his partners find a buyer for each unit.
I scheduled an appointment with him so I could view each townhouse. I must say that I was very impressed when touring each of the units. We discussed pricing and what I discovered is that the developers were actually very realistic about pricing. They each realized that the market has taken a big turn since they acquired the land and began development. They'll be satisfied to just break even on this venture.
Each 3 bedroom/2.5 bath townhouse has 2,136 square feet of living space, a patio in the back, two balconies off the master and second bedrooms and a 240 square foot garage. The units also come equipped with Whirlpool stainless steel appliances, stackable washer/dryer, granite countertops, white cabinets, 20×20 white porcelain tile floors on the first story and wood floors on the second story. The master bath includes double sinks, a walk-in shower and a separate Jacuzzi tub. The master bedroom is very spacious and has a large walk-in closet.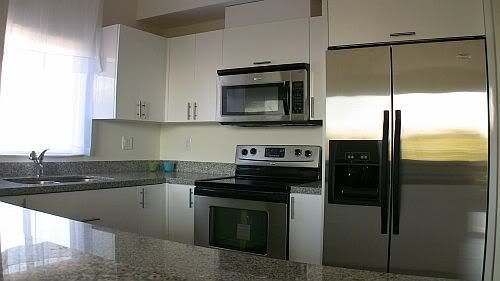 Each townhouse is offered at $515,000.
The address of the two townhouses are 2780 and 2782 SW 33 Avenue. They are located on the west side of US-1.
The picture slideshow below will show you other pictures that I took of one of the townhouse units.
Below you can view a video of one of the townhouse units: