Solaris at Brickell Bay – Deal or No Deal?
August 2, 2008
by Lucas Lechuga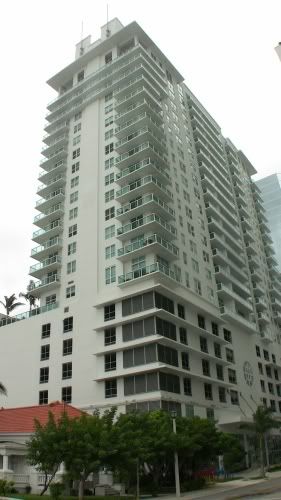 There's a one bedroom/one bath foreclosure at Solaris at Brickell Bay that is currently listed for $159,900.  The price of this 730 square foot condo was recently reduced 33 percent.  I showed the condo to a client this afternoon and found it to be in great condition.  The condo has real hard wood floors, stainless steel appliances and a bay view from the balcony.
Normally, I would say that this condo, with a list price that amounts to $219 per square foot, is a great deal.  However, there have been recent sales at Solaris at Brickell Bay that have me scratching my head.  These closed sales do not appear in the MLS.  Be prepared to be shocked!
Unit 706 – 1 bedroom/1 bath – sold for $28,000 in May 2008 ($37 per square foot)
Unit 803 – 2 bedroom/2 bath – sold for $10,000 in May 2008 ($9 per square foot)
Unit 1103 – 2 bedroom/2 bath – sold for $22,000 in April 2008 ($21 per square foot)
Each unit was sold to separate individuals.  Does anyone know the story behind these?  Were these once owned by the same bank who needed to liquidate their properties quickly?  I would think that they'd at least be able to get $125,000 for the one bedroom and $200,000 for the two bedrooms under normal circumstances.
Solaris at Brickell Bay was victimized by mortgage fraud which is now resulting in a high number of foreclosures.  There are risks associated with buying into a building that has a lot of foreclosures because of the likely unpaid monthly maintenance fees from these units.  There's risk that a future special assessment could be billed to all condo owners if the association's financial condition deteriorates as a result.  There's also a risk that the condo building is not properly maintained.  Read the post entitled "Will History Repeat Itself in Miami?" to learn more about how bad things can get for a building who can't pay its bills.
Nonetheless, with all risks considered, selling a condo for $9-$37 per square foot in Brickell seems crazy to me.  I know someone out there has the story behind these recently sold condos.  Please share with the rest of us.