Real Estate Porn – "I know It When I See It"
April 28, 2012
by Lucas Lechuga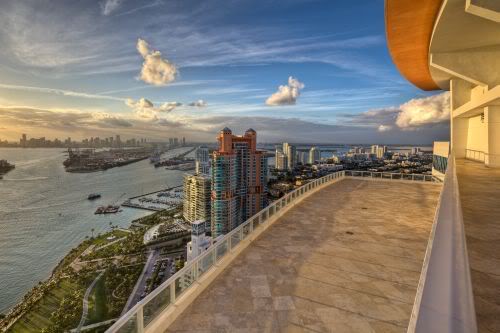 The phrase, "I know it when I see it", was made famous in the 1964 landmark case of Jacobellis v. Ohio. It was used to describe Supreme Court Justice Potter Stewart's threshold test for pornography.  It occurred to me recently that the same threshold test should be applied to determine what does and does not constitute true real estate porn – a modern term to describe almost dreamy, remarkably extravagant real estate which provides visual satisfaction to those who view it online.  I had heard the term and knew its meaning but never felt that I had ever truly witnessed it for myself – that is until I saw Penthouse 2 at Continuum South Beach.  Everything else I had seen in the past was just a tease by comparison; a 1960s titty mag at best.
PH2 at Continuum South Beach is a palace in the sky worthy of only the most elite members of society – crème de la crème.  The majestic, 4-story penthouse offers unparalleled views and a timeless decor that can only be found in storybook novels.  When it comes to condo living in South Florida, it doesn't get any better than PH2 at Continuum South Beach.  The 6 bedroom/7.5 bath residence offers over 11,000 square feet of interior space, over 6,000 square feet of terrace, a rooftop pool, a private in-unit elevator and staff quarters.  Also included is another 1,200 square feet of separate guest suites, a lofted beachfront cabana and 10 parking spaces.
The price to live like the exalted king of South Florida? $35M large.  The hefty property taxes and condo association fees are a mere afterthought for those with the means to afford such splendor.  Life is too short not to have the finest that money can buy.
PH2 is located in the South Tower of Continuum South Beach – the only privately gated resort development in South Beach – at 100 South Pointe Drive, Miami Beach, FL 33139.  Amenities at Continuum South Beach include: resort-style pools, lap pool, full service beach club, 13,000 square foot world-class spa and fitness center, restaurant, 3 clay tennis courts, tennis pro shop, 24-hour security, full service concierge and valet parking.