Uptown Lofts Pre-Foreclosure – Under $275 Per Square Foot with Great Bay View!
June 7, 2007
by Lucas Lechuga
Today, I discovered a 2 bedroom pre-foreclosure at Uptown Lofts. Built in 2005, Uptown Lofts is a relatively new building. The building has a concierge, swimming pool, gated parking, club room, sauna and fitness center. It is located on the corner of Biscayne Boulevard and NE 23 Street, in Edgewater Miami. Uptown Lofts has a total of 66 units.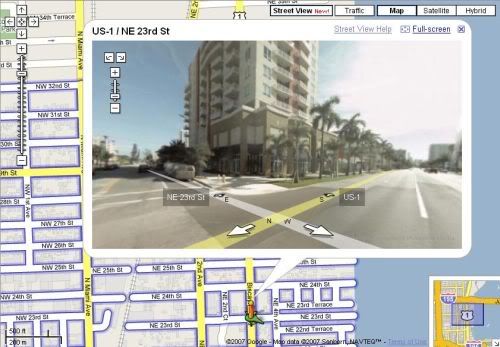 I went over and checked out the 2 bedroom pre-foreclosure an hour after I found out about it. I've seen other units at Uptown Lofts in the past, but I wasn't aware that some of the Penthouse units have 20-foot ceilings. That is, until today. The 2 bedroom/2 bathroom pre-foreclosure has 1,950 square feet of living space, 20-foot ceilings, stainless steel appliances, a huge wrap-around balcony, spiral staircase, stackable washer/dryer and a fantastic view of Biscayne Bay. This spacious corner unit has exposures to the east and north. It is considered a 2 bedroom unit but only one of the bedrooms is closed off. The space upstairs, however, would be considered by some to be two separate bedrooms because they each have a closet and window but are not partitioned.
The owner of this unit paid $599,900 in November 2005. A foreclosure notice was posted on January 12, 2007. The bank is going to take possession of the property soon unless someone steps in to take it off their hands. The price of the 2 bedroom today was reduced from $550,000 to $535,000. That is already less than $275 per square foot. I wouldn't be surprised if the bank accepted an offer slightly less than $250 per square foot. That would be an amazing deal! It is next to impossible to find a property for under $300 per square foot in a recently constructed building with a direct, unobstructed bay view in the Arts District. $350 per square foot is more like it. The monthly maintenance fees are $987 per month.
The unit does need a little work. Judging by the condition of the unit, it seems as though the owner has abandoned the property. I would definitely repaint the whole unit and install new floors. The carpeting upstairs definitely needs to be torn out but the tiles downstairs can stay if you're looking to minimize expenses.
The picture slideshow and the video below will show you what I saw today at the 2 bedroom pre-foreclosure unit at Uptown Lofts. Let me know if you have any questions.