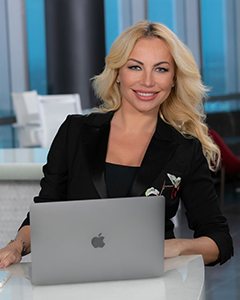 Anzhela "Angela" Petukhova
Anzhela moved to Florida in 2004 and thoroughly enjoys living in the Sunshine State. In 2014, she got her real estate license and has enjoyed a fruitful career ever since. Prior to real estate, Anzhela received her education in Business and Financial Development and then worked as a Financial Manager for 6+ years.
Anzhela has traveled all over the world and has lived in Germany, Finland, and Russia. She speaks several languages including Russian and English.
Since developing her career in real estate, she has gained experience in sales and rentals in Fort Lauderdale, Boca Raton, Sunny Isles, Bal Harbour, Hollywood, Hallandale, and Miami.  She has been the 'go-to' agent for NHL players and major investors.
Anzhela is known for her extensive market knowledge and her devotion to her clients. Her success is based on her client's positive experience. She is always willing to go above and beyond to make sure that her client's transactions are smooth and stress-free.